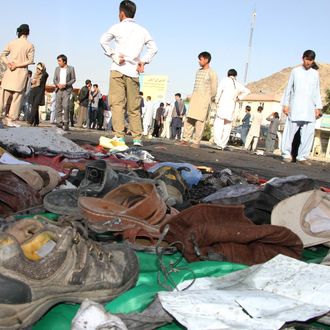 Afghan protesters from Hazara minority stand at the blast side after suicide attack in Kabul.
Photo: Anadolu Agency/2016 Anadolu Agency
Kabul, the capital of Afghanistan, was the scene of horrific carnage after explosions rocked a peaceful protest and left at least 80 dead and more than 230 wounded. ISIS claimed responsibility for the massacre, allegedly carried out by suicide bombers who blew themselves up. It was the deadliest attack in Kabul since December 2001.
The attack specifically targeted the Hazaras, a Shia minority in Afghanistan and a group that's faced discrimination in that country. Hazaras had gathered to protest and demand that an electrical power line that was being constructed pass through Bamiyan Province, which has a large Hazara population and desperately needs the infrastructure.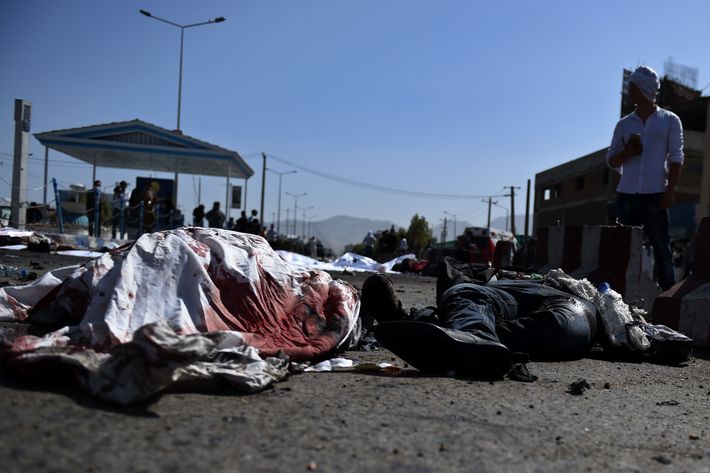 A report on Amaq News Agency, ISIS's "media outlet," claimed responsibility for the attack, and said two fighters blew themselves up. Afghan investigators believe three people tried to detonate suicide vests: One succeeded in blowing himself up, another was shot by police, and one suspect's vest malfunctioned and did not go off. That assailant is believed to be at large, reports the New York Times.
ISIS, which follows an extremist version of Sunnism, considers the Hazaras, as Shiites, its enemy. The Islamic State has waged attacks in Afghanistan, but they've been concentrated in the eastern provinces, where the militants are battling with Taliban fighters for territory and clashing with government forces (and U.S. troops). ISIS had never succeeded in attacking Afghanistan's capital city until now.