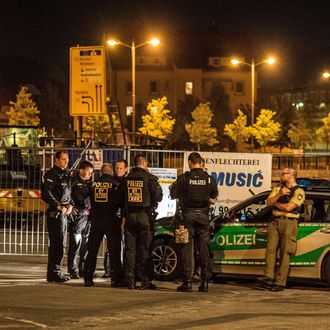 Police stand at the scene of a suicide attack in the southern Germany.
Photo: Friebe/AFP/Getty Images
Another horrific attack in Germany, the fourth this week alone: A rejected 27-year-old Syrian asylum-seeker blew himself up at a music festival in Ansbach, injuring at least 15, some seriously. The bomber was killed, and accounted for the only fatality.
Then, on Friday, Munich was suspended in a state of terror after a gunman opened fire at a McDonald's and at a big mall; the city was put on lockdown over fears of multiple suspects until police determined that only one shooter killed nine before turning the gun on himself. The Munich assailant was a German-born man with dual Iranian citizenship who had been treated for depression and kept a book on mass shootings and collected dozens of articles on previous attacks. Police believe he was the lone gunman and unmotivated by Islamic or right-wing terrorism — but cops questioned an Afghan teen who may have known about the attack plan ahead of time. On Sunday, before the Ansbach bombing, a Syrian asylum-seeker — who also had previous run-ins with police —  slashed and killed a woman with a machete in southwestern Germany. Police haven't named a motive in that attack yet.
Sunday's suicide bombing is also the third attack carried out by an asylum-seeker, which is sure to intensify the political fault lines over the refugee crisis. Germany has absorbed more refugees and migrants — more than 1 million in 2015 alone — than any other European Union country. The public pushback to Chancellor Angela Merkel's "open door" policy has intensified ever since the mass sexual assault in Cologne on New Year's Eve, where many recent arrivals were implicated. These rampages in Germany, coupled with those in Nice, have raised security concerns and also strengthened anti-immigrant sentiment that has roiled and provided a platform for extremist far-right groups.