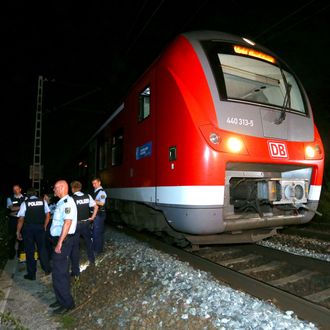 Photo: KARL-JOSEF HILDENBRAND/AFP/Getty Images
The Islamic State declared the ax-wielding assailant who wounded at least four people on a German train a "soldier" in an announcement from its news agency Tuesday. The 17-year-old attacker reportedly shouted "Allahu Akbar" before hurting four travelers from Hong Kong with an ax and a knife on a rail line near the southern German town of Wurzburg. The suspect tried to flee after a passenger pulled the train's emergency brake, but he was pursued and surrounded by police. The teen rushed at authorities and was shot and killed. 
Police also found a hand-drawn ISIS flag after raiding Riayad's apartment. Authorities are trying to figure out if the teen had contact with ISIS — and if so, when — or if he was self-radicalized by propaganda. It appears that this was a "lone wolf" attack, but authorities have not ruled out accomplices just yet, reports the New York Times. 
The ax attack comes as Europe is on edge following the brutal truck rampage in Nice, France, which left more than 80 dead. ISIS took credit for that massacre, though French investigators have found no evidence that the suspect — identified as Mohamed Lahouaiej-Bouhlel, a 31-year-old Tunisian man who lived in Nice — had direct contact with ISIS. This most recent train attack is also likely to complicate the migrant debate in Germany and across the European Union. Germany took in more than 1 million refugees last year, but that welcome soured after public pushback and the mass sexual assaults in Cologne on New  Year's Eve, believed to have been perpetrated by some asylum-seekers.