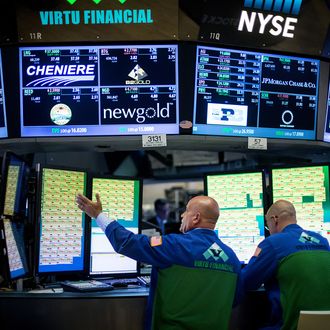 It may or may not represent a trend, but the Dow sure like today's robust June jobs report.
Photo: Eric Thayer/Bloomberg via Getty Images
Due to the horrific news from Dallas this morning, the official BLS jobs report for June did not get the kind of attention its rather distressing predecessor in May received. May's underwhelming 38,000 net new jobs became June's 287,ooo. The unemployment rate did tick up slightly, but it's still under 5 percent. Real wages even rose a bit. The numbers got an extra boost from the Verizon strike ending, just as the May numbers were artificially worsened by the strike.
The current trajectory of the economy is still in doubt; we may have just seen two quirky months of job data in a row. But for those who feared a market panic due to signs of a softening economy aggravated by Brexit, the June numbers were a relief. The Dow Jones index was up 250 points for the day.
In the world of political obsessives, the good jobs report assuaged Democratic fears of negative economic perceptions occurring at precisely the moment they normally get "locked in" during an election year. The economy seems to have resumed its pattern of steady if unspectacular growth.