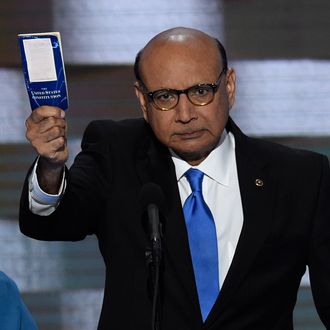 Khizr Khan offers Trump one of his favorite books.
Photo: Saul Loeb/AFP/Getty Images
After the Pulse Nightclub shooting in Orlando, Donald Trump revived his proposal to ban all Muslims from entering the United States. Among his justifications for a policy of overt religious discrimination was that, even if the government could properly vet all Muslim immigrants, it still wouldn't be able to prevent "the radicalization of their children." Even a Muslim citizen born in this country, Trump suggested, was an inherent risk to the safety and well-being of other Americans.
In 2004, captain Humayun Khan lost his life in Iraq while protecting the safety and well-being of his fellow American soldiers. On Thursday night at the Democratic National Convention, his father, an American Muslim immigrant, delivered another powerful indictment of Donald Trump's patriotism in a convention that's been full of them.
"Donald Trump consistently smears the character of Muslims," Khizr Khan said in Philadelphia. "He vows to build walls and ban us from this country. Donald Trump: You're asking Americans to trust us with their future. Let me ask you, have you even read the United States Constitution? I will gladly lend you my copy!"
As Khan pulled out his pocket version of the U.S. Constitution, the convention hall exploded.
"In this document, look for the words 'liberty' and 'equal protection of law,' Khan instructed. "Have you ever been to Arlington Cemetery? Go look at the graves of brave patriots who died defending the United States of America. You'll see all faiths, genders, and ethnicities."
"You have sacrificed nothing!" Khan shouted. "And no one!"
Khan concluded by imploring his fellow immigrants not to "take this election lightly," but rather, "to honor the sacrifice of my son, take the time to get out and vote."