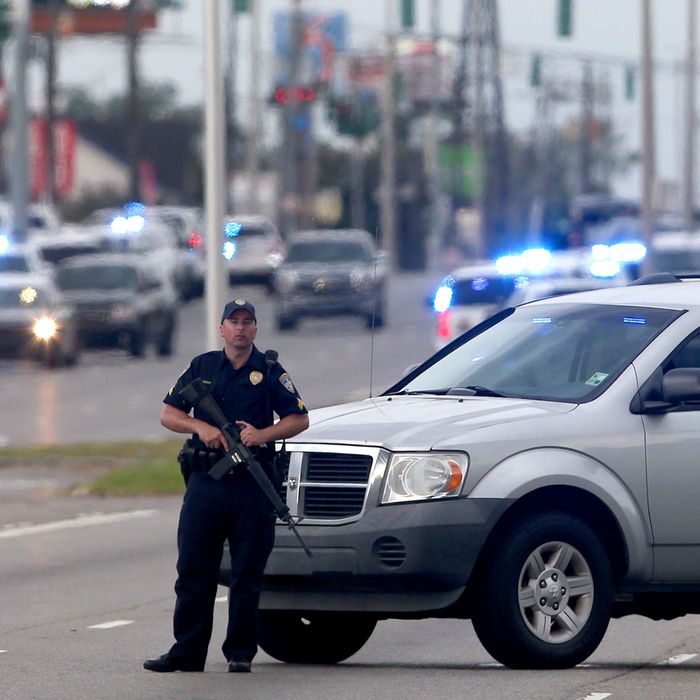 An East Baton Rouge Police officer patrols Airline Highway following the shooting.
Photo: Sean Gardner/Getty Images
Two police officers and a sheriff's deputy are dead and another sheriff's deputy remains in critical condition after a confrontation with a masked gunman on Sunday morning in Baton Rouge, Louisiana. Two other officers were wounded but did not sustain life-threatening injuries.
The incident began around 8:40 a.m., when the officers and deputies responded to a report of a suspicious man walking down Airline Highway, dressed all in black and holding an assault rifle. The suspect — identified as Gavin Long, a 29-year-old African-American who served in the Marines — then engaged in a gun battle with police and was killed at the scene. This is the second attack on U.S. law-enforcement officers in ten days.
The Latest
All three of the slain officers have been

 

identified. 
The alleged shooter is Gavin Eugene Long, a black former Marine and Iraq War veteran. His motive remains

 

unclear.
Donald Trump responded to the shooting by attacking President Obama, saying, "Our country is a divided crime scene, and it will only get

 

worse!"
A second round of shots was fired outside a nearby car wash. "I was about to pull in at about 8:45, and we got caught in the crossfire," said Avery Hall, who works at the car wash. "I heard a lot of gunshots — a lot. I saw police ducking and shooting. I stopped and pulled into the Dodge dealership. I got out and heard more gunshots. We ducked." Finally, the gunman was killed by police.
Tensions between police and the Baton Rouge community have been extremely high following the killing by police of a black man, Alton Sterling, on July 5. Baton Rouge has seen continued protests over the killing, often along Airline Highway, and the city's police have been concerned about credible threats against officers in the weeks since — especially following the deadly ambush of Dallas police officers protecting a Black Lives Matter protest on July 7. Members of Sterling's family condemned the shooting on Sunday and expressed their heartbreak for the families of the slain officers.
The Suspect
The gunman has been identified as Gavin Eugene Long, a black former Marine and Iraq War veteran from Kansas City, Missouri. Sunday was Long's 29th birthday. Authorities say he was wearing black clothing and a face mask at the time of the shooting. He was armed with an AR-15-style assault rifle and had extra ammunition. Nothing is known yet about the shooter's motive, or whether he was specifically targeting police.
Two persons of interest were detained for questioning in the area on Sunday, but they were later released without charges being filed. Earlier on Sunday, law-enforcement officials said they believed there was a total of three suspects, but at an afternoon press conference, they said they now believed there was just one gunman. However, state police spokesperson Major Doug Cain said they're "not ready to say he acted alone," and authorities are still investigating whether Long received assistance "indirectly, directly here, or at home."
Last week, Baton Rogue police said they were investigating a plot by four people to shoot police officers, claiming that's why there had been a heavy police presence at recent protests.
The Victims
All three of the slain officers have been identified. Montrell Jackson, 32, was a married, ten-year veteran of the Baton Rouge Police Department. He was also a new father.
Three days after the shooting of Alton Sterling, Jackson wrote about the tensions in Baton Rouge on Facebook:
Matthew Gerald, who had a wife and two children, was a 41-year-old former Marine. He had been a member of the Baton Rouge Police Department for less than a year.
The third officer killed was 45-year-old Brad Garafola, a 24-year veteran of the East Baton Rouge Sheriff's Office. He was married with four children.
One Baton Rouge police officer and two sheriff's deputies were wounded, with one in critical condition.
The Political Response
President Obama released a statement condemning the shooting:
For the second time in two weeks, police officers who put their lives on the line for ours every day were doing their job when they were killed in a cowardly and reprehensible assault. These are attacks on public servants, on the rule of law, and on civilized society, and they have to stop …

We may not yet know the motives for this attack, but I want to be clear: there is no justification for violence against law enforcement. None. These attacks are the work of cowards who speak for no one. They right no wrongs. They advance no causes. The officers in Baton Rouge; the officers in Dallas — they were our fellow Americans, part of our community, part of our country, with people who loved and needed them, and who need us now — all of us — to be at our best.
He later echoed those remarks in an afternoon press conference, saying the shooting was "an attack on all of us."
Presumptive Republican presidential nominee Donald Trump responded to the shooting on Facebook and Twitter, blaming it on a "lack of leadership" in the U.S., and stating that the country "is divided and out of control":

Presumptive Democratic presidential nominee Hillary Clinton has also released a statement:
Today's devastating assault on police officers in Baton Rouge is an assault on all of us. There is no justification for violence, for hate, for attacks on men and women who put their lives on the line every day in service of our families and communities. We must not turn our backs on each other. We must not be indifferent to each other. We must all stand together to reject violence and strengthen our communities. Our thoughts and prayers are with the friends and families of the police officers who were killed and injured today.
And here is what Louisiana governor John Bel Edwards had to say:
Both of Louisiana's Republican senators have responded as well:
Prominent Black Lives Matter leader DeRay Mckesson, who was recently arrested during a protest in Baton Rouge, responded to the shooting in an interview with the New York Times, insisting that, "The [Black Lives Matter] movement began as a call to end violence. That call remains … My prayers are with the victims of all violence."
Also speaking with the Times, Judith Browne Dianis, a civil-rights organizer and the executive director of the Advancement Project's national office, lamented that the shooting was already being framed through the lens of Black Lives Matter:
It bothers me that people in the movement are being asked to denounce violence that has nothing to do with the movement. It is a false narrative that the violence had something to do with the movement for black lives. There is no one in the movement saying bring violence to anyone. In fact, we're saying stop the violence against us.
This is a developing story and will be updated as more information becomes available. An earlier version of this story included reports that seven officers were injured in the shooting — that number has now been revised down to three.