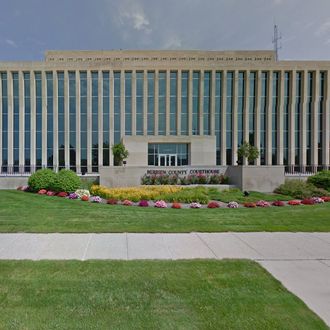 Berrien County Courthouse
Photo: Google
An inmate on his way to jail allegedly grabbed a gun from a deputy's holster and opened fire Monday afternoon in a Michigan courthouse, killing at least two people — both of whom are bailiffs. The gunman is also dead, according to local CBS affiliate WWMT, after being shot by authorities. Officials said "several" other people were injured, including a sheriff's deputy, and at least one civilian.
Shots rang out around 2:30 p.m. local time, on the third floor of the Berrien County Courthouse, in St. Joseph, Michigan, a town on the coast of Lake Michigan near the Indiana border. Authorities have not confirmed the identity of the victims, but Berrien County sheriff Paul Bailey said both were retired police officers. Their deaths come as Dallas is still reeling from the murder of officers who were gunned down by a sniper during a peaceful protest last week.
The suspect's name also hasn't been released. Bailey confirmed that the gunman was in custody at the time, but did not elaborate on why he was in court that day.
The courthouse and other government buildings in the area were reportedly put on lockdown, and employees were told to shelter in place. Cops said the scene was secure at about 3:30 p.m., though they have not lifted the lockdown order at the court. The courthouse will also be closed Tuesday as officer investigate the crime and how the alleged gunman managed to get his hands on a weapon.
Governor Rick Snyder addressed the shooting on social media Tuesday, and said he was on his way to St. Joseph's for a briefing about the tragedy:
Presumptive GOP presidential candidate Donald Trump also responded on Twitter:
This is a breaking-news post and will be updated as more information becomes available.