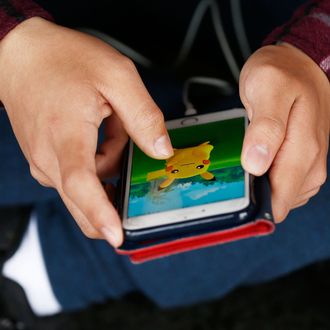 Photo: Brendon Thorne/ Getty Images
Are you playing Pokémon Go? If yes, you can stop now. A New York man says he has caught every pocket monster currently available for capture in the United States. Sorry!
Nick Johnson claims to have caught everything from a Bulbasaur to whatever Pokémon begins with "Z" (Ed. note: Zygarde). He first posted his feat on Reddit and later caught up with Business Insider (where a friend of his is a reporter) to discuss his achievement. Technically there are 151 Pokémon in the original game, but several can only be caught outside of the U.S. and few other rare monsters are still impossible to catch, Kotaku reports. By that math, Johnson says that, at 142 Pokémon strong, his roster is as good as you can get.
He finished his quest after finally nabbing a Omastar, but says his penultimate catch, a Porygon, proved to the toughest. "I may or may not have seen it on the radar [in nearby New Jersey] and then ordered an Uber to drive me around until I found it," Johnson, in an excellent PR move for Uber, told BI. Now that he's done, Johnson says he'll help his girlfriend finish her collection (ugh, men) and "probably sleep more."