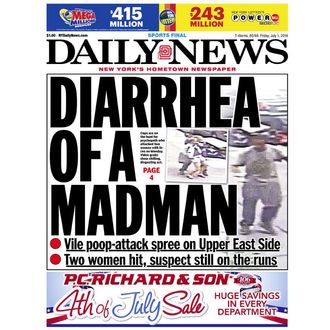 No longer on the runs, though.
The alleged author of a disturbing criminal spree is now in police custody, after cops arrested a man in Brooklyn Friday morning tied to two poop attacks on the Upper East Side. (Yes, poop attacks.)
The reign of terror was brief but stomach-turning: It began Monday afternoon, when the man threw feces at a 33-year-old woman's head and body while she was walking on East 91st Street and Park Avenue. The suspect ran, and the woman was, at least physically, unhurt. Then: A few hours later, the man came up behind another 27-year-old female making her way down East 74th Street and First Avenue. Surveillance video shows the suspect tailing her. He quickly reaches out and grabs her waistband and shoves a bag of poop down her shorts. The victim struggles with him, and he pushes her aggressively away. The suspect jogs off, but not before he removes his latex surgical gloves and throws them to the side. The woman apparently fled to a parking garage. "She couldn't speak," an attendant at the garage told the Daily News. "She was shaking. She couldn't even call 911. She tried twice." 
The identity of the suspect, who's in his 40s, hasn't been released. He'll be arraigned for his (number) two crimes later Friday.