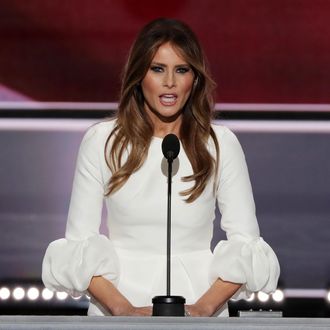 Melania Trump.
Photo: Alex Wong/Getty Images
For 36 hours after it became apparent that Melania Trump had plagiarized Michelle Obama's 2008 speech to the Democratic National Convention, the Trump campaign accused Hillary Clinton of manufacturing the pseudo-scandal. For all of Tuesday, the official line was that Melania and Michelle had simply connected to a common Zeitgeist, and the press's incessant nattering about plagiarism reflected nothing more than Crooked Hillary's rigging of the entire American media. Republican National Convention chief strategist Sean Spicer argued that, if Trump had plagiarized Obama, well, then Obama had plagiarized Twilight Sparkle from My Little Pony, who also believed in following your dreams.
McIver's mea culpa may create more problems than it solves: If she tendered her resignation yesterday, then it looks a lot like Trump's campaign staff knowingly lied throughout Tuesday afternoon. And if she is an "in-house staff writer" at the Trump Organization, then Trump may be guilty of illegally commingling his corporate and campaign resources.
"Given the identification of McIver as an 'in-house staff writer' at the Trump Organization in both the statement and letter, and her resignation from the Trump Organization ― printed on Trump Organization stationary ― and not the campaign, it appears that corporate resources may have been used to prepare the speech," Jordan Libowitz, communications director for Citizens for Responsibility and Ethics in Washington, told the Huffington Post. "That would make the speech an illegal in-kind corporate contribution from the Trump Organization to the campaign."