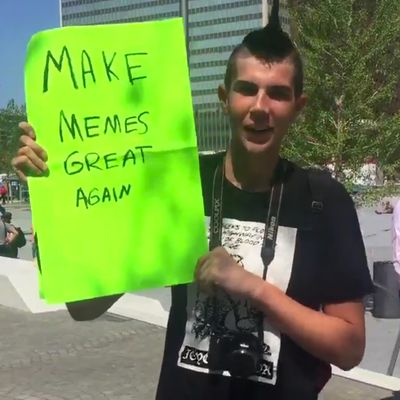 Get ready to have your faith in humanity restored: Today, outside the convention center in Cleveland, teenage memer Zac Alberty is leading the call for new memes. "Make Memes Great Again," his sign reads on one side.
On the other side, for added versatility, it displays the maxim "Shrek is love, Shrek is life." Shrek is one of the patron saints of the elaborate and complex culture of Dank Memedom.
Alberty expressed concern to The Hill's Taylor Lorenz that there were no new memes and the dearth of memes should be a focus of the convention. He is a fan of Dat Boi, the unicycling frog.
In an interview with Gawker, Alberty said, "Everyone here has all these bad, boring signs. They're all so hateful. I just wanted to make people smile. Also, we really do need to make memes great again."
Alberty is, in this blogger's opinion, the only good person in the city of Cleveland right now. Keep up the great work, Zac!