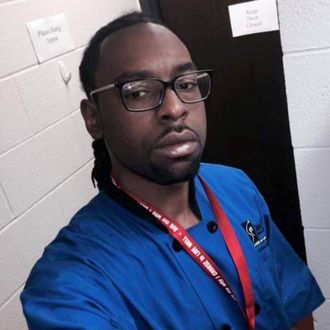 "Oh my God, please don't tell me he's dead," Diamond Reynolds pleads on a video livestream, as a man slumps next to her, his white shirt soaked in blood. "Please don't tell me my boyfriend just went like that." That graphic video, filmed by Reynolds, was caught in the moments after a police officer fatally shot 32-year-old Philando Castile during a traffic stop in Falcon Heights, Minnesota. They were allegedly pulled over for a broken headlight; their 4-year-old daughter was in the backseat. Castile is the second black man fatally shot by police this week, his death coming just two days after 37-year-old Alton Sterling was killed by cops while selling CDs outside a convenience store in Baton Rouge, Louisiana. The Justice Department has now opened a civil-rights investigation into Sterling's death.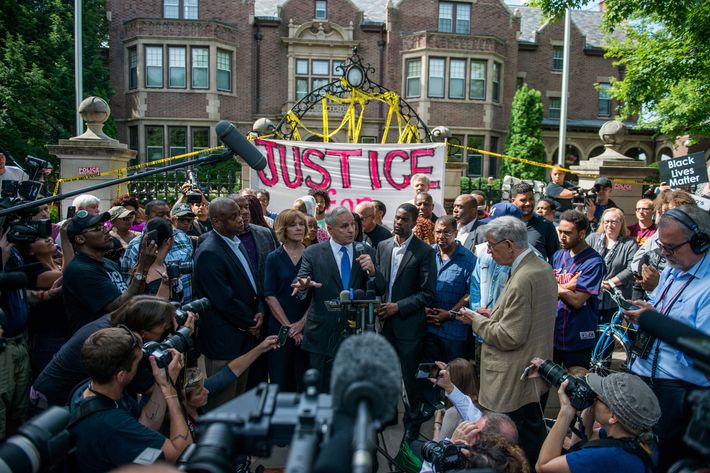 Minnesota governor Mark Dayton, along with other federal and state lawmakers, has also called for a Justice Department inquiry into Castile's death. "This kind of behavior is unacceptable," Dayton said. Hundreds of Black Lives Matter protesters have been camped outside the governor's mansion since last night, chanting, "No justice, no sleep."
The governor told the crowd, still amassed on Thursday, that the state has already begun an investigation. "I will do everything in my power to help protect the integrity of that investigation, to ensure a proper and just outcome for all involved," Dayton said. One reporter, from local CBS affiliate WCCO-TV, snapped a picture of the governor standing in solidarity with the demonstrators.
Governor Dayton expressed more outrage at a news conference later, asking bluntly: "Would this have happened if those passengers, the driver were white? I don't think it would have."
"No one should be shot in Minnesota for a taillight being out of function," he continued. "No one should be killed in Minnesota while seated in their car."
The Justice Department has responded to the governor's calls by saying that it's aware of the Falcon Heights shooting, and it's "assessing the situation."
Protests also continued through Thursday, with hundreds crying, "Justice for Philando."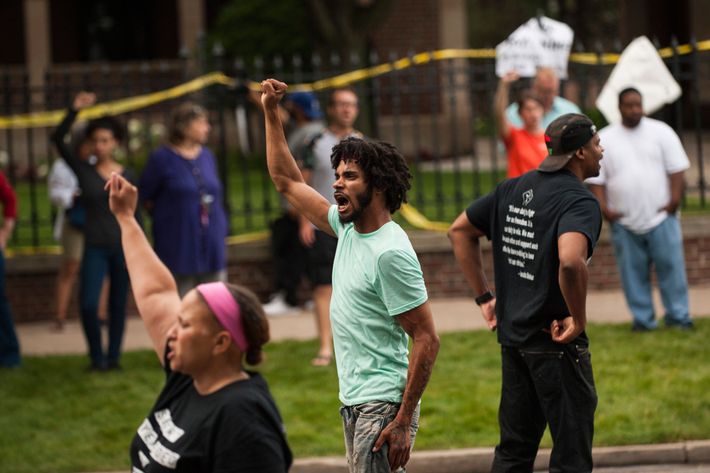 A makeshift memorial, lined with flowers, grew on the side of the road, near where Castile was shot.
Earlier Thursday, Reynolds, who was taken to the precinct after the shooting and questioned by law enforcement, retold the entire police encounter and its aftermath to the gathered crowd and media. She explained that Castile had informed the officer he was reaching for his identification, "which he always kept in his right back pocket," and that he had told the officer he was armed and had a conceal-and-carry license. Then the cop fired. "Not one shot. Not two shots," Reynolds shouted. "Not three shots. Not four shots. But five shots."
"He seemed very nervous. He seemed very frantic," Reynolds said of the police officer. "But he had no right to bear arms against an innocent man."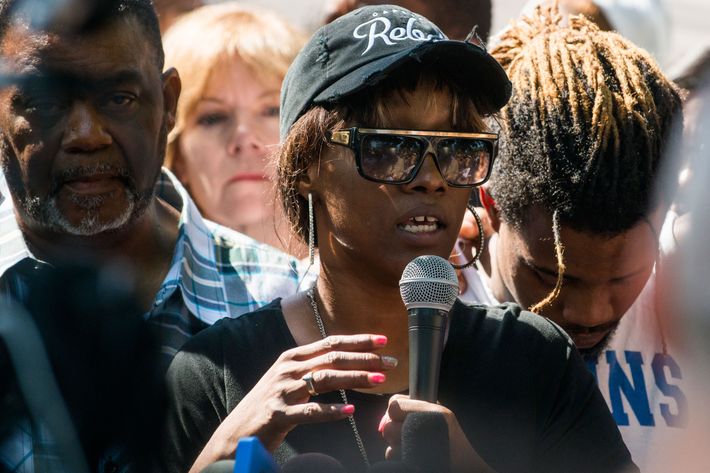 Reynolds identified the police officer who allegedly shot Castile as Asian-American, but officials have not confirmed the identity of the cop except to say that he is a more-than-five-year veteran of the St. Anthony's force, the nearby city that contracts services to Falcon Heights, per the New York Times. A handgun was recovered at the scene, and the cop has been put on administrative leave.
Castile, who would have turned 33 next week, worked as a nutrition-services supervisor at a magnet school in St. Paul, serving about 500 kids a day. "We're just devastated," Anna Garnaas, a teacher at the school told the Washington Post. "He just loved the kids and he always made sure that they had what they needed. He knew their names, he knew what they liked, he knew who had allergies. And they loved him."
Castile's family also spoke out about the shooting. "He's never been in no trouble," Valerie Castile, the victim's mother, told WCCO-TV. "He did everything by the law and he died by the law, the hand of the law. He did everything he was supposed to as far as being a law-abiding citizen."
"It's just, like, we're animals," his sister also told WCCO-TV. "It's basically modern-day lynching that we're seeing going on, except we're not getting hung by a tree anymore, we're getting killed on camera. And these officers are being able to go home to their family on paid leave."
The outrage in the suburb of St. Paul comes on the heels of continued protests over the police shooting of 37-year-old Alton Sterling in Baton Rouge, Louisiana. Officers apparently responded to a call that a man, identified as Sterling, had pulled a gun on another person outside a convenience store. The owner of the convenience store, who was friends with Sterling, filmed a second video that, now public, appears to show Sterling unarmed when cops fired on him.
White House press secretary Josh Earnest said President Obama was "deeply disturbed" by the shootings in Minnesota and Louisiana, and later issued a long Facebook post, saying "All Americans should be deeply troubled" by the two police shootings.
This post has been updated throughout.