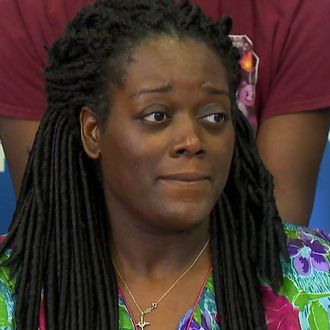 Shetamia Taylor, speaking at press conference at Baylor University Medical Center in Dallas.
Photo: Screencap/NBC News
Shetamia Taylor, the black Texas mother who was wounded during last week's deadly ambush of Dallas police officers during a Black Lives Matter protest, has vowed to participate in another demonstration. Taylor, who is currently in a wheelchair after she was shot in the leg while trying to escape and shield one of her sons from the gunfire, wants to set an example for her boys, ages 12 through 17, who were all with her on Thursday night at what was supposed to be a peaceful protest.
"I don't want them to think that I am a quitter, because I am not," she announced at an emotional news conference on Sunday, according to the Associated Press. While she protected one son, another two were able to get to safety after the shooting started, and one boy found refuge with another mother at the protest, 33-year-old Angie Wisner, who took care of the teenager until they could determine what happened to Taylor. Wisner and Taylor finally met on Sunday, after Taylor had gotten out of surgery. Said Wisner, holding back tears following the meeting, "Honestly I don't see myself as a hero. I see myself as a mother. Any mother would have did what I'd done."
Speaking of heroes, Taylor devoted most of her press conference to thanking the Dallas police for what they did that night, noting that just as she tried to shield her son, police officers assembled to shield them both.
"They had no regard for their own life. They stayed there with us. They surrounded my son and I," Taylor explained, "and I saw another officer get shot right in front of me."
"I never had an issue with police officers," she added, "If anything [Thursday night] made my admiration for them greater."
In perhaps the most heartbreaking moment of the press conference, Taylor broke down when recounting how she was in the same room with a pair of officers when one told the other that a colleague had been killed, and how she was suddenly forced to reconcile that tragedy with her own happiness that she and her family were safe.
Watch Taylor further express her appreciation, and recount what happened, herself:
Doctors say it will be two to three months until she can put weight on her injured leg again.