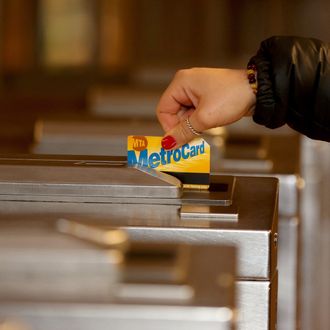 Tiny, flimsy plastic will probably cost more in 2017.
Photo: Bilgin Sasmaz/Anadolu Agency/Getty Images
It's that time of year again — when the MTA starts discussing fare hikes. The transit agency just released its 2017 financial plan, and it looks very likely that the cost of a MetroCard is going to go up again next year. The good news: Nothing is definite yet, and the MTA will do the math again and hold public comment before its board votes on any increases in November, which could affect not just subway fares, but buses, commuter rails (LIRR and Metro-North) and tolls. The bad news: Eh, let's be real; some sort of hike will probably happen. Right now, the proposal estimates that fares will go up by no more than a 4 percent increase. Last time the MTA hiked fares, in 2015, the base subway fare went up a quarter from $2.50 to $2.75, though the MetroCard "bonus" offset some of that cost. Based on past hikes, a $3 base fare seems like a good bet. Still, these are just predictions based on what the MTA says it needs to raise — about $300 million — as part of its approximately $13 billion budget for a very stretched transit system.