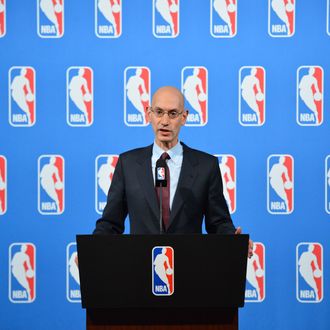 NBA commissioner Adam Silver.
Photo: David Dow/NBA
In April, NBA commissioner Adam Silver warned North Carolina that if the state refused to revise its infamous "bathroom" law, the league would move its 2017 All-Star Game out of Charlotte. The Tar Heel State's legislators did not heed this warning. Nor did they heed a Justice Department order that declared the law a violation of the Civil Rights Act. And so, the NBA has decided to take its business elsewhere. According to Adrian Wojnarowski of Yahoo Sports, the professional basketball league is now eyeing New Orleans' Smoothie King Center as the host for 2017's All-Star Weekend.
The loss of the All-Star Game is expected to adversely impact Charlotte's economy, which already took a hit when PayPal decided to abandon plans for a global operations center in the city, in the wake of HB2's passage.
The state's Republican governor Pat McCrory will seek reelection this fall. Current polling shows McCrory in a statistical tie with his Democratic challenger, Attorney General Roy Cooper.