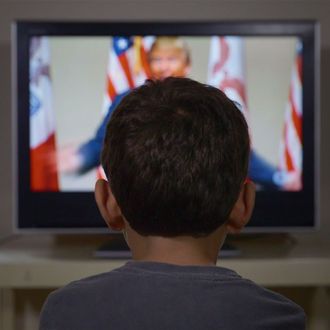 "When I grow up, I wanna be a garbage fire!"
In her latest attack ad, Hillary Clinton suggests that the misogynistic pseudo-fascist she's running against might not be the ideal role model for our nation's children. The 60-second spot features a diverse array of adorable, impressionable kids, watching wide-eyed as their televisions stream Donald Trump's most incendiary remarks. Violence is encouraged. The disabled are mocked. Menstruation is alluded to. Then Hillary Clinton appears and says something anodyne about how our children will judge us one day for the decisions we make right now. The spot will air as part of an eight-figure ad buy targeted at Virginia, Ohio, Colorado, New Hampshire, Iowa, Florida, Nevada, and North Carolina, the Washington Post reports.
The ad comes as a new New York Times–CBS News poll shows Clinton losing the six-point lead she held last month, putting her dead even with a candidate who has no campaign and little support among his own party's leadership. The poll was taken in the immediate aftermath of the FBI's damning non-indictment of Clinton's email practices as secretary of State, and shows a five-point increase in the percentage of voters who view her as "not honest and trustworthy" — up to 67 percent, making her less trustworthy in the eyes of the American public than the founder of Trump University.
It's just one poll taken at a maximally unflattering time for the Democratic nominee. With Sanders's endorsement this week and the convention on the horizon, one would expect Clinton's numbers to improve. But for now her campaign must plead: