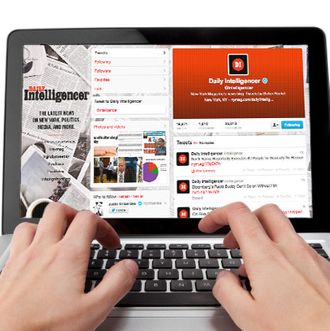 Welcome back to the New York Magazine Competition. On alternate Mondays, we lay out a challenge and offer sample responses. Enter in the comments section or on Twitter with the hashtag we've provided, and the editors will select a winner. Criteria are highly subjective, but heavily retweeted and favorited posts will have an advantage. The prize is a year's subscription to New York in print or a two-year subscription to the iPad edition (winner's choice). Full rules are here.
COMPETITION NO. 73: "OVERSOLD HEADLINES." Please offer a headline followed by a story you wouldn't have expected. For example:
CAMERON TO BE SUCCEEDED BY MAY: In the next ten months, director James Cameron will end his producing partnership with …

TIMES TO DISCONTINUE PRINT EDITION: The Washington Times announced today that it would …

MAJOR PLAYERS DISCUSS NO-TRUMP CONTRACT: At the American Contract Bridge League championships this week, two card-playing champions …
Enter on Twitter with the hashtag #oversoldheadlines, or in the comments thread below, by July 21.
RESULTS OF COMPETITION NO. 72, "BREGRETS ONLY," in which you were asked to create a portmanteau that describes remorse associated with a major (or not-so-major) event or public figure.

HONORABLE MENTION TO:
Bucknerror
—Periclescrystal
Teapot D'ohme
—@muddymudskipper
Johnny DeppendsonmylatestproblemchicandwhichtattooIneedtobealtered
—rmtmiller
BorisSorry
—HudsonRiver
Je regretta von Susteren
—@and_read 
CoreyLewdanddouchey
—BobKopac
Helen of TrOYeahIShouldn't'veAbductedHer
—jonathan.gruenhut
WhatHaveIDonald
—@ReaderIdle and HudsonRiver
Jebb: The lowest point of a political campaign
—Lexxman
NRA-holes
—kg1958
Clintonement
—rbison
Palinguistically-challenged
—FlirtySanchez
Missionaccomplishit
—queasyrider
OopsIraqedThePlace
—Pumpkinsafraud
AND THE WINNER IS:
Flintrospection
—KathleenS