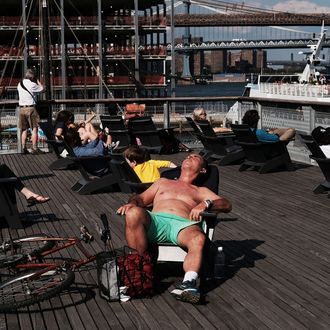 Doing it up right.
Photo: Spencer Platt/Getty Images
It was only a matter of time. New York City is about to get its first big helping of sticky, sweaty summer weather starting Wednesday. The very hot temperatures should hang around long enough to make this the city's first official heat wave of 2016.
As New York Metro Weather meteorologist John Homenuk explained to Daily Intelligencer last year when everyone was freaking out about the heat, all it takes to make a heat wave are three consecutive days with temperatures above 90 degrees. That should happen this week, as the mercury will creep into the 90s Wednesday afternoon and keep at it through Friday.
Thanks to high humidity levels, the heat indices — what it's actually going to feel like outside — should hover between 95 and 100 degrees around the city.
A heat advisory has been issued for New York City that will last from 1 p.m. Wednesday until 8 p.m. Thursday. The New York State Department of Environmental Conservation also issued an air-quality advisory for the city, Long Island, and the northern suburbs because of high levels of air pollution in the area, made worse by the oppressive heat and humidity.
It's going to be brutal, but it's time to take the advice of the National Weather Service and crank up the AC "to stay cool at home or go to a place that has air conditioning."