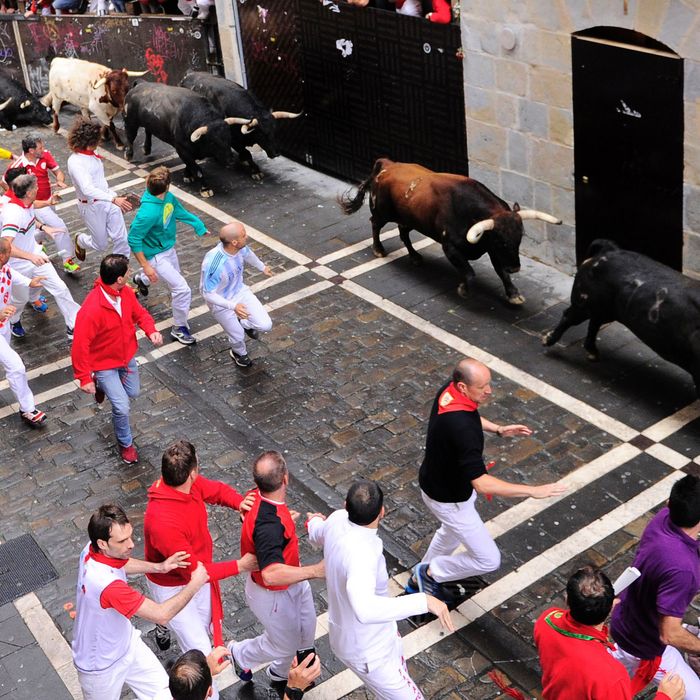 More fun than it looks, apparently.
Photo: Ander Gillenea/AFP/Getty Images
Twelve people, including four Americans, have been gored in this year's running of the bulls during the San Fermín festival in Pamplona, Spain. On Wednesday, a 39-year-old American man was gored in the thigh, and at least one other American and four Spaniards were injured — including two who were "lifted into the air" by the bull's horns — after a bull named Ilustrado crashed into a group of runners near a fence. There's one more day to go in the festival.
This is the actual moment of the goring, if you have the stomach for it; otherwise, just go back and read that book you were supposed to finish in high school:
This year's San Fermín festival comes just as Spain is reeling from the goring of Victor Barrio in Teruel, the first matador to die in the ring in about 30 years. (All of the bulls unleashed onto Pamplona's cobblestone streets are "fighting" bulls and will end up facing the picadors and matadors in the ring during the festival.) Barrio's death — and the slaughter of the bull and the bull's mother (a ritual after a bull kills someone during a fight) — renewed calls from animal-rights' activists to end the practice. Spain's younger generation has largely turned against the sport.