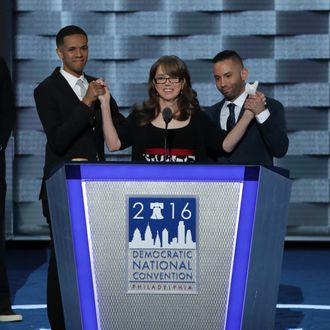 Christine Leinonen.
Photo: Alex Wong/2016 Getty Images
Last month, Christine Leinonen lost her only son in the massacre at the Pulse Nightclub in Orlando. On Wednesday night, Leinonen addressed the Democratic National Committee as part of a program spotlighting the party's commitment to reducing gun violence. She shared a bill with many experienced orators, including Connecticut senator Chris Murphy, but no one spoke with more eloquence and authority than this former Michigan state trooper.
"It takes about five minutes for a church bell to ring 49 times," Leinonen began. "I know this because last month, my son Christopher, his boyfriend, Ron, and 47 others were murdered at a club in Orlando."
Leinonen proceeded to do the impossible: Inject emotional vitality into the phrase, "Love trumps hate."
"Christopher was my only child. As I used to tell him, you can't do better than perfect … In high school, he won the Anne Frank Humanitarian Award for starting the Gay-Straight Alliance," she said. "Christopher's paternal grandparents met and fell in love in a Japanese internment camp. So it was in his DNA that love always trumps hate."
Leinonen concluded by recollecting the day her son was born.
"I can tell you about the day he was born. At the time, I was a Michigan state trooper. When I went into labor, the hospital put my off-duty gun in a safe. I didn't argue, I know that common-sense gun policies save lives," she said, to raucous applause. "I'm glad common-sense gun policy was in place when Christopher was born. But where was that common sense the day he died?"
You can watch the full speech below.