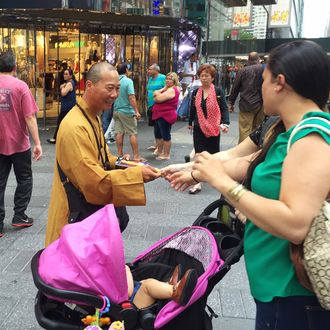 Photo: Michael Balsamo/AP
Just in time for the Fourth of July holiday: Fake Buddhist monks are back. New York's "new squeegee men" of 2015 are apparently not only still hanging around but actually having a bit of a resurgence in the city's tourist meccas, including Times Square and especially around the High Line. In case you're unfamiliar, here's how the racket works: People dressed in the garb of a Buddhist monk approach people (tourists) and try to hand them a medallion with a peace message, or a beaded bracelet in exchange for a "donation," usually for a made-up temple. If the monks don't get the cash, they start following and pestering people relentlessly.
It also turns out that this is a global scheme, and the fake monks have been spotted in a bunch of other cities, including San Francisco, and in countries such as Hong Kong, Australia, and Nepal. They're all reportedly using the same gold medallions that advertise "lifetime peace."
Signs, like the one above, warning against the monk scam are up around the High Line, and administrators of the elevator park told CBS 2 earlier this month they're also looking for a legal recourse to evict the fake monks.