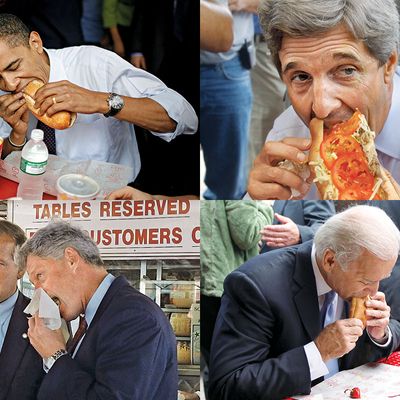 Pat's or Geno's? Candidates sampling the city's signature sandwich.
Photo: Charles Ommanney/Getty Images/Jaqueline Larma/AP Photo/Matt Rouke/AP Photo/Greg Gibson/AP Photo
This month, the Democratic Establishment descends on Philadelphia — birthplace of America, cradle of liberty, city of brotherly love, and a Democratic stronghold where registered Republicans are outnumbered seven to one. It's also the biggest city in a state where Donald Trump hopes for an upset despite Pennsylvania's having gone for the Democrat in the past six presidential elections. Greeting the delegates will be Jim Kenney, the brand-new mayor who ran with a pro-LGBT and pro-immigrant platform, and, as a city councilmember, helped decriminalize pot. He's promised to continue Philly's huge revitalization efforts, which have attracted more millennials per capita than any other big city and fueled a formidable creative class, a vibrant arts community, and a burgeoning food scene. A city run for decades by Democrats, Philadelphia is also pretty dysfunctional: It still vaguely resembles the corrupt metropolis Lincoln Steffens blasted in The Shame of the Cities, and it can't seem to eradicate its problems with gun violence, heroin, or poverty. July's convention, in other words, will be a big proving ground, especially for Mayor Kenney, who hopes to end the week as a progressive visionary, and for Philly's diehards, who are shamelessly rooting for their town.
The U.N. Was Almost There, Too
An incredibly abridged history of America's first capital.
By Sasha Issenberg
1682
English Quaker William Penn plans a gridded city on the eastern edge of a land grant he has received from King Charles II. Thanks to the Delaware River port, Penn's "greene country towne" becomes one of the largest cities in the Colonies.
1787
Philadelphia holds the Constitutional Convention. Three years later, Congress passes a law moving the government seat to a spot on the Potomac to appease Southerners. Washington is officially established as the capital in 1800.
1825
The city loses its economic supremacy, too, as the Erie Canal makes New York harbor the region's most important foreign port.
1876
Still a manufacturing powerhouse, producing everything from Baldwin locomotives to Stetson hats, Philadelphia celebrates the 100th anniversary of the Declaration of Independence with a Centennial Exposition in Fairmount Park at which Alexander Graham Bell's telephone debuts.
1899
The city defines itself as a center of northern black life when former University of Pennsylvania researcher W.E.B. DuBois publishes The Philadelphia Negro, a sociological study of an African-American neighborhood bolstered by post–Civil War migration from the South.
1946
Philadelphia loses its once-promising bid to host the United Nations headquarters after the Rockefeller brothers offer up an East River site.
1950
As jobs making steam locomotives and cowboy hats disappear, so do residents. The country's third-largest city peaks at 2.1 million residents.
1971
Former police commissioner Frank Rizzo, who once threatened to "make Attila the Hun look like a faggot," is elected mayor with a white-ethnic ­coalition that presages the Reagan Democrats and a law-and-order campaign that mimics Nixon's.
1985
The city's first African-American mayor, Wilson Goode, goes even farther than Rizzo, most famously during a standoff with the fringe black-power group MOVE. Police helicopters under his command bomb the group's West Philly rowhouse. An entire block is immolated, destroying 61 houses and killing 11, including five children.
2000
The Republican National Convention pushes along Philadelphia's post­industrial transition to a service-and-tourism economy. The week serves as the national coming-out party for sponsor Comcast, one of the few Fortune 500 companies headquartered in the city. Comcast has since acquired NBC Universal from General Electric and is building its second tower in downtown's Center City: The Norman Foster skyscraper is expected to be the tallest American structure outside New York or Chicago.
2010
The Census finds modest population growth for the first time since 1950, thanks largely to new immigrants and an influx of residents to Center City. Philadelphia is now the country's fifth-largest city.
The Most Delicious Street
An eating tour through South Philly's  happening strip, East Passyunk, from food-and-drink writer Drew Lazor.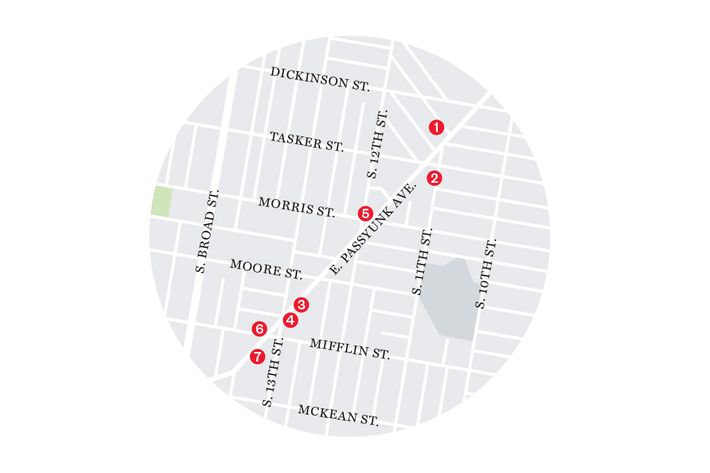 1. Brigantessa
1520 E. Passyunk Ave.; 267-318-7341
"My pick for the city's best Neapolitan-style pizza. A whole lot of other cool Southern Italian cooking to explore, too; go for the crudos and any meat roasted in the wood-burning oven."
2. Noord
1046 Tasker St.; 267-909-9704
"Hearty, two-fisted Dutch and Scandinavian cooking from chef Joncarl Lachman, one of the most magnetic restaurant personalities in the city."
3. Chhaya Cafe
1819 E. Passyunk Ave.; 215-465-1000
"Coffee shop that's popular with the stroller set, but that's for a reason — it's an awesome breakfast/brunch place. They do waffles that will convert even the grumpiest waffle denier."
4. Saté Kampar
1837 E. Passyunk Ave.; 267-324-3860
"Malaysian meat skewers and a bunch of other native dishes served in a slick little space. They grill over this incredible smoldering coconut-shell charcoal."
5. Bing Bing Dim Sum
1648 E. Passyunk Ave.; 215-279-7702
"I really like what Ben Puchowitz and his crew do. It's ostensibly Asian cuisine, but there's a ton of fun and deliberately inauthentic influences that never come off as tone-deaf. The roast pork bao is fluffy-sweet Chinese bread filled with Italian-style roast pork, long hots, and sharp provolone."
6. Stargazy
1838 E. Passyunk Ave. 215-309-2761
"East London pie and mash done right. The fact that meat pies and mashed potatoes fly out of here even when it's 90 degrees outside tells you all you need to know."
7. Will BYOB
1911 E. Passyunk Ave. 215-271-7683
"Chef Chris Kearse cooks some of the most beautiful French food in Philly — it tastes damn good, too."
Your Perfect Philly Friday
A trio of local tastemakers outline a night for the ages.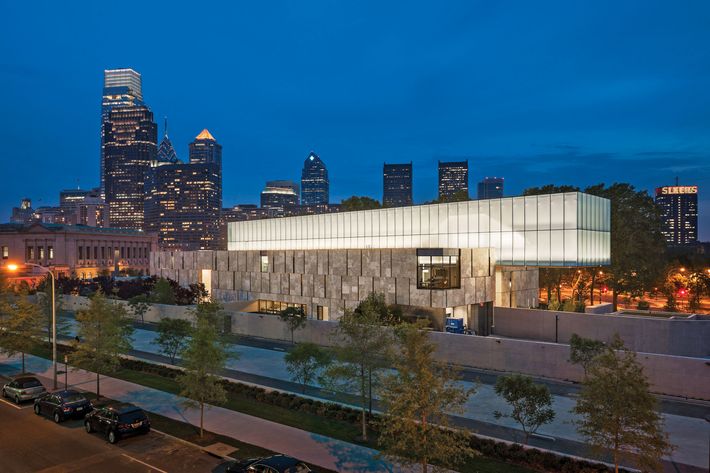 Sean Agnew, co-owner of Union Transfer and R5 Productions
First stop
"The Barnes Foundation (2025 Benjamin Franklin Pkwy.) is unbelievable. An estimated $25 billion in artwork is displayed in just a few small rooms. Cézannes, Matisses, Picassos."
Next up
"Hardena (1754 S. Hicks St.), a tiny, delicious, buffet-style Indonesian restaurant in South Philly. You choose two items for $8, and portions are giant. Anthony Bourdain has been there."
Then go here
"The Republican (1734 Snyder Ave.) is basically a residential home turned dive bar. Ring the bell, show the door guy your ID, be polite, and act like you've been there before. And no matter what, never go before 1:30 a.m."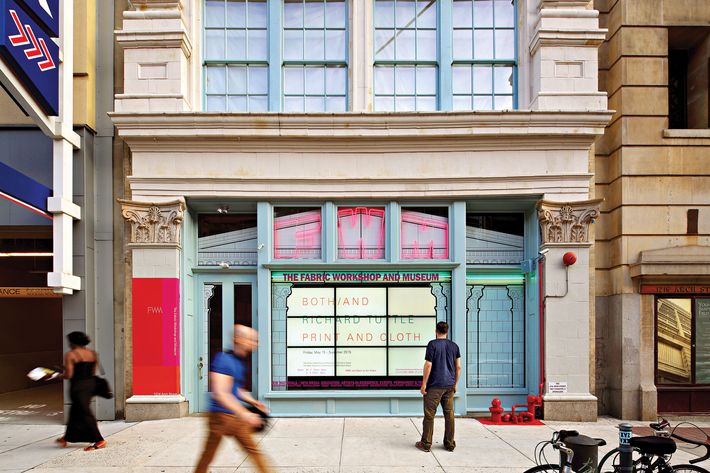 Maori Karmael Holmes, director of the BlackStar Film Festival
First stop
"The Fabric Workshop and Museum (1214 Arch St.) is the only museum in the U.S. dedicated to creating work in new materials and new media in collaboration with artists from diverse backgrounds."
Next up
"Lolita (106 S. 13th St.) for Mexican street food. I love the crispy fish tacos, Valeria's chopped salad, and, for dessert, the almond pear cake."
Then go here
"Silk City (435 Spring Garden St.) is half-music venue, half-gastropub. Go here to dance and catch world-class DJs, like lil'dave, Rich Medina, Mr. Sonny James, Junior, or King Britt in action."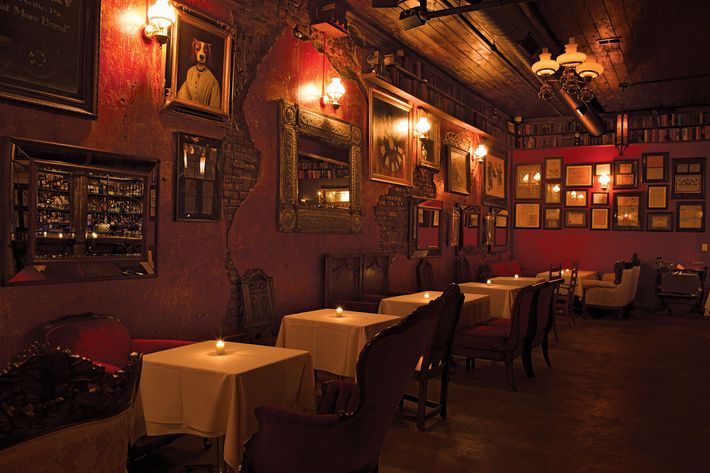 Leah Kauffman, director of content strategy at Tiller.com
First stop
"Start at Hop Sing Laundromat (1029 Race St.) in Chinatown, a speakeasy-style bar where no photos or cell phones are allowed. Try the Montana Payback, a spicy, sweet, and frothy libation that'll kick your night off on the right foot."
Next up
"Rumor (1500 Sansom St.) in Center City. This stately nightclub features two dance floors and a VIP 'vault' with bottle service for those who want to be more secluded."
Then go here
"Every Philadelphian knows that all great adventures end at Little Pete's (219 S. 17th St.). Excellent people-watching; it's a scene after 1:45 a.m."
What the Locals are Griping About
A few recent political kerfuffles.
Its schools are broke.
Crummy schools are Philly's perpetual sticking point, especially as millennial breeders stampede in.
The soda tax was meant to help.
Mayor Kenney sold a tax on sugary drinks as a way to fund schools, specifically a new pre-K program, but cynicism is already starting to creep in: "When these kids get out of pre-K, they still end up in a K-through-12 system that is underperforming, drastically underfunded, and drastically under-resourced," says Solomon Jones, a radio host and Philadelphia Daily News columnist.
It's got a little bit of a corruption problem.
Six Philadelphia politicians have been charged with public corruption in the past year, including 11-term congressman Chaka Fattah, who was recently convicted on 22 counts, including racketeering and bribery. The Philly D.A.'s office is also implicated in "Porngate" — officials sent porno from their work emails, and Attorney General Kathleen Kane, whose office is investigating, says unrelated perjury charges against her are revenge. (One insider described the mess as "a circular firing squad.")
Late-night convention fun may be thwarted.
Pennsylvania has notoriously strict liquor laws. State senators tried to relax the rules ahead of the convention, but the bill has stalled in the lower chamber.
Where the Party Will Party
According to PhillyVoice writer and political commentator Brian Hickey.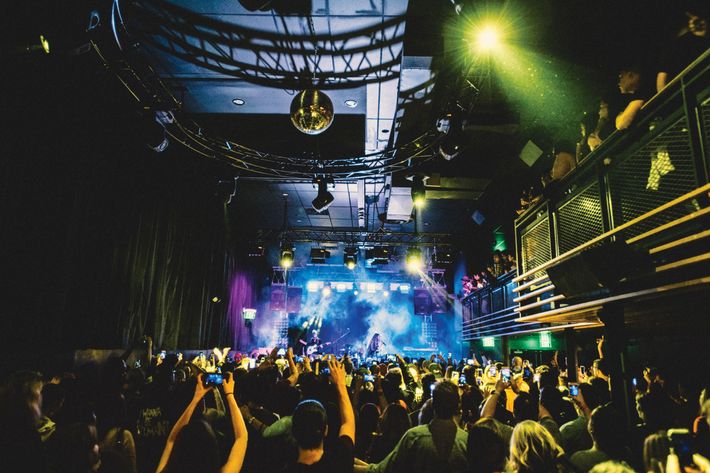 Hillary Hangouts
"The night before the primary, Chelsea Clinton was in town for an 'Evening With Chelsea' fund-raiser at Coda (1712 Walnut St.). So I'm thinking Rittenhouse Square will appeal to the Hillary folks. A place like XIX Nineteen (200 S. Broad St., 19th fl.) is hoity-toity."
Bernie Bars
"Bob & Barbara's Lounge (1509 South St.) in the Graduate Hospital area or the Interstate Drafthouse (1235 E. Palmer St.) in Fishtown. They have a track record of drawing crowds with a Bernie mind-set. I would also think they'd go to the Draught Horse (1431 Cecil B. Moore Ave.) at Temple University. There was a Bernie rally at Temple earlier this year that had lines wrapped around the block."
Where the Delegates Are Sleeping
They're assigned to 26 hotels throughout Philadelphia and Valley Forge.
To hang with #FeelTheBern diehards
Wyndham Garden Airport, where guests will include delegates from Maine, New Hampshire, Rhode Island, and Vermont.
To woo 11th-hour pledges
Marriott Hotel Philadelphia Downtown is putting up delegates from California, Texas, Florida, and Iowa. Iowa has just one undeclared delegate, but California has 12, Texas has eight, and Florida has six. The Marriott Downtown will serve as headquarters for Missouri and Illinois, and together will have three potential swingers — as will the DoubleTree by Hilton in Valley Forge, where the South Dakota delegates will be bunking.
And then there's the matter of protests …
So far, at least 23 groups have filed for permits to protest, among them Black Men for Bernie, environmental group Food and Water Watch, and Occupy DNC. The city's strategy has come off looking a touch alarmist: The Inquirer reported last month that Philly's notorious Holmesburg Prison was being "readied" in case of mass arrests — officials soon backtracked on that one. ("The optics weren't particularly good," says David Thornburgh, president of Philly watchdog group Committee of Seventy.) Other reports noted short-lived plans to purchase an armored vehicle and said the city was buying so-called riot insurance. Mayor Kenney has since promised to stick cops on bikes, not on tanks. If police do navigate the expected protests without a major incident, says local ward committee member Nick Marzano, Philly will come off "as a place that respects First Amendment rights as part of our heritage," although it could still "all go to shit and basically be the Frank Rizzo years all over again." One final wrinkle popped up in March, when the Philadelphia Limousine and Cab Associations threatened to boycott the Wells Fargo Center unless the city bans UberX and Lyft drivers, both loathed by taxi drivers because a loophole lets them avoid paying the city's annual licensing fee.
Philadelphia vs. Cleveland
Just before the Dems powwow in Philly, the GOP will take over Cleveland. A side-by-side of convention hosts.
Philly
Population: 1,567,442
Mayor: Jim Kenney (D), a career politico who helped decriminalize recreational marijuana
Poverty rate: 27%
Median household income: $37,460
Median monthly rent: $915
Most expensive home for sale: An 8,610-square-foot penthouse in Center City for $14 million
Largest employer: University of Pennsylvania/Penn Medicine
Highest-paid athlete: Ryan Howard of the Philadelphia Phillies, $25 million
Most popular zoo animals: Tony, a southern white rhino
Most important artwork: Picasso's Three Musicians, Philadelphia Museum of Art
How it voted in 2012: 85% for Barack Obama
Cleveland
Population: 388,072
Mayor: Frank G. Jackson (D), a Vietnam veteran known for being introverted
Poverty rate: 36%
Median household income: $26,179
Median monthly rent: $661
Most expensive home for sale: A 5,400-square-foot penthouse in the Warehouse District for $1,700,000
Largest employer: Cleveland Clinic
Highest-paid athlete: LeBron James of the Cleveland Cavaliers, $23.2 million
Most popular zoo animals: Willy, Kallie, Shenga, Martika, and Moshi, African elephants
Most important artwork: Monet's Water Lilies (Agapanthus), the Cleveland Museum of Art
How it voted in 2012: 69% for Barack Obama
The Cheesesteak Test 
When Republican presidential candidate Scott Walker visited Geno's last summer, he ordered his steak without onions and with American cheese, provoking ridicule, then dropped out a couple months later. John Kerry famously ordered his (from rival Pat's) with Swiss; he lost to George Bush in the general election. Hillary Clinton hasn't sampled a cheesesteak this election cycle, but Philadelphians remember Bill always got his the right way, with onions and Cheez Whiz.
*This article appears in the July 11, 2016 issue of New York Magazine.