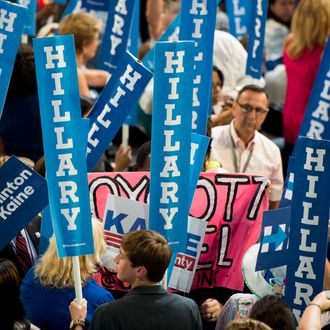 Delegates use their Hillary signs to block a CodePink protester on the floor.
Photo: Bill Clark/© 2016 CQ-Roll Call, Inc.
The Democratic National Convention erupted in booming chants of "Hillary! Hillary!" throughout Clinton's acceptance speech, masking little pockets of discontent that still brewed in the arena. At least one group protesting the DNC urged its supporters to rush the stage and perform a "citizen's arrest" of Hillary Clinton. It never reached that point. But a vocal minority of disgruntled Bernie Sanders supporters and other protesters pushed to make their anger known.
Some pro-Bernie protesters reportedly wore neon shirts, so they would glow and stand out in the darkened arena.
Demonstrators, particularly from the California delegation, tinkered with their Hillary signs to spell "LIAR." Others just scrawled black-marker messages of protest over the official signage. Among the messages: Anti-TPP and "No More War." At one point, the California delegation unfurled a Wikileaks banner, an apparent shout-out to the organization that published the DNC leaks.
Hillary Clinton supporters waged counterprotest operations on the dissenters. They cheered Hillary's name when chants of "No More War!" or "Liar!" or "Goldman Sachs" erupted. The pro-Clinton contingent fought signs with signs, and tried to box out the the protesters' banners from view.
Mini-arguments also reportedly broke out in the audience, with Clinton and Bernie supporters going head-to-head in shouting matches.
Some Sanders delegates, including a big pack from California, walked out soon after Clinton accepted the nomination.
Security swooped in on some of the disrupters, and a few protesters were reportedly arrested by Philly police inside the arena.
Outside, protests bubbled into the fourth day. Though protesters never managed to apprehend Hillary Clinton, she faced "trial" in absentia, outside the convention hall. At least some demonstrators staging a sit-in clashed with police.