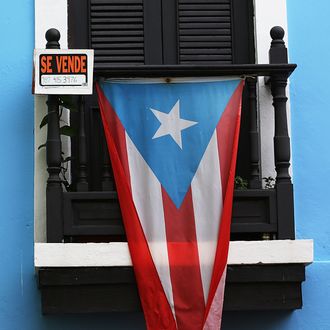 San Juan, Puerto Rico.
Photo: Joe Raedle/Getty Images
For the first time in its long debt crisis, Puerto Rico will default on debts guaranteed by its constitution. On Friday, $1.9 billion worth of debt payments were due, including $780 million in constitutionally guaranteed, general-obligation bonds. The island's governor, Alejandro García Padilla, issued an executive order suspending debt payments, as funds for the territory's basic services had reached "dangerously low levels."
"Under these circumstances, these executive orders protect the limited resources available to the agencies listed in these orders and prevents that these can be seized by creditors, leaving Puerto Ricans without basic services," the governor's administration said in a statement obtained by Reuters.
The default was long anticipated, and provided much of the impetus for the Puerto Rico Oversight, Management and Economic Stability Act, which president Obama signed into law on Thursday. The law does not provide Puerto Rico a "bailout," in the sense of allocating federal funds to expunge its debt. However, it provides the island access to a bankruptcy-like debt-restructuring process, while, controversially, placing the territory's finances under the control of a federally appointed board. The legislation also halts litigation against Puerto Rico, which would otherwise have quickly followed Friday's default. That reprieve is critical for an island with little money to spare on protracted court battles.
If you're still fuzzy on the basics of the Puerto Rico debt crisis, here's a quick primer.