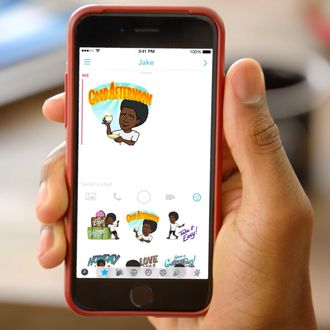 Back in March, Snapchat bought Bitmoji, an app that lets users create cartoon avatars, for $100 million. Today, we finally know why and boy, oh boy, is your mom going to be excited. Snapchat users can now insert their Bitmoji avatars into messages and snaps.
Since 2014, Bitmoji has let users create tiny, animated versions of themselves to be inserted into other platforms: sent as text messages, Gchatted, and tweeted. A big part of the appeal is that Bitmoji are hyper-customizable. Being able to digitize yourself right down to the love handles and receding hairline makes them, surprisingly, even more fun to use.
To use Bitmoji in Snapchat, you first have to download the Bitmoji keyboard from the app store and create your avatar. (If you haven't already.) Then, head to Snapchat's settings to link the two accounts. From there, you'll see your Bitmoji as sticker options both in the chat and snap sections of the app. If you are snapping or chatting with a friend who also has Bitmoji enabled (and honestly, if you have a friend who isn't getting in on this sweet deal, you may want to just let that relationship go), you'll also see a set of "Friendmoji" stickers, which will combine both of your avatars and means you'll never have to use your words to express another human emotion so long as you both shall live.