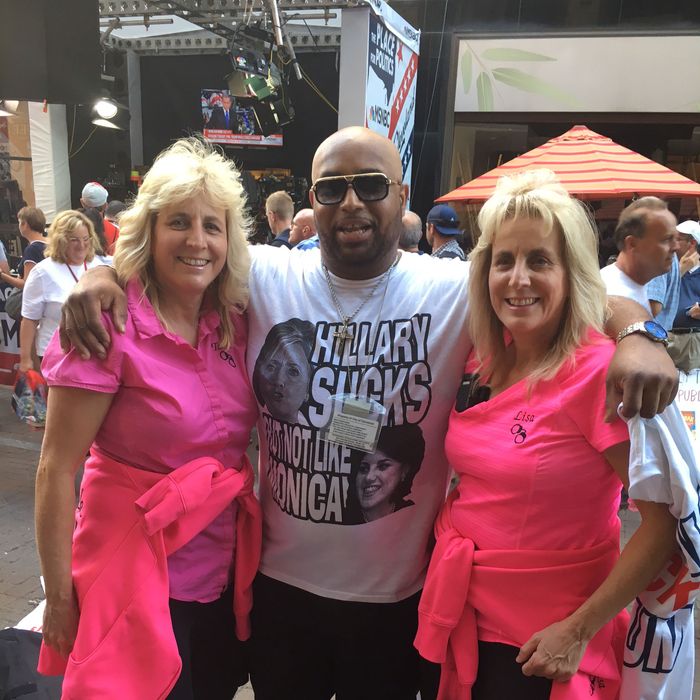 Theresa (left) and Lisa (right) Golt, with Chili Thompson (center).
Photo: Rebecca Traister
Cleveland is currently flooded with vendors selling an array of potty-mouthed T-shirts, but I was struck on Wednesday evening by a pair of similarly coiffed blonde women in matching hot-pink shirts, enthusiastically negotiating the purchase of one of the convention's most ubiquitous shirts, the one that reads "Hillary Sucks But Not Like Monica" on the front and "Trump That Bitch" on the back. I wanted to know what had brought them to this moment.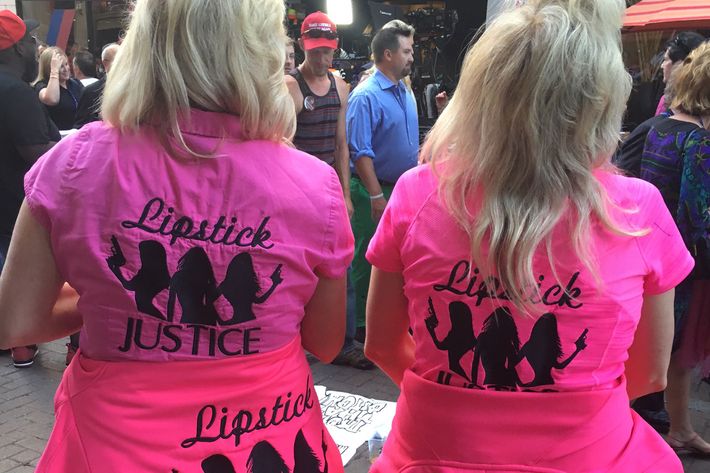 But, I argued, given that they were purchasing a garment depicting Hillary Clinton as a subpar fellator, their political leanings might not remain secret for long.
True enough, they agreed. But they were, in fact, buying the shirt for a friend and bounty-hunting competitor, whom they described as a "male Hispanic, age 71, named Richard, who loves Trump and hates Hillary; he's going to love this shirt so much."
Did they love Trump so much? "Yeah," said Teresa. "He's a dick and an asshole, but we need him." Lisa agreed: "You need a president to be a dick sometimes."
But, I said, so many people consider Hillary Clinton to be, for the sake of parity, "a dick." Did they not think she was up for the job?
"No, she's a murderer, a fake, and a phony," said Lisa.
I asked the women if, despite their loathing for Clinton, they had any reservations at all about buying a shirt that demeaned and reduced women so crudely. "Well, we're not going to wear it!" said Lisa. "This shirt is only for a guy," said Teresa. "It's about sucking a guy's dick." "Yeah," said Lisa, "if we wore it people might thing we were lesbos."
As the Golts walked off with their purchase, I turned to the purveyor of the shirt in question. Chili Thompson, who used to play fullback at Duquesne and was a DJ in the '80s, now runs this T-shirt business. "I love this job," Thompson said, "because if people don't have a sense of humor, they don't have shit."