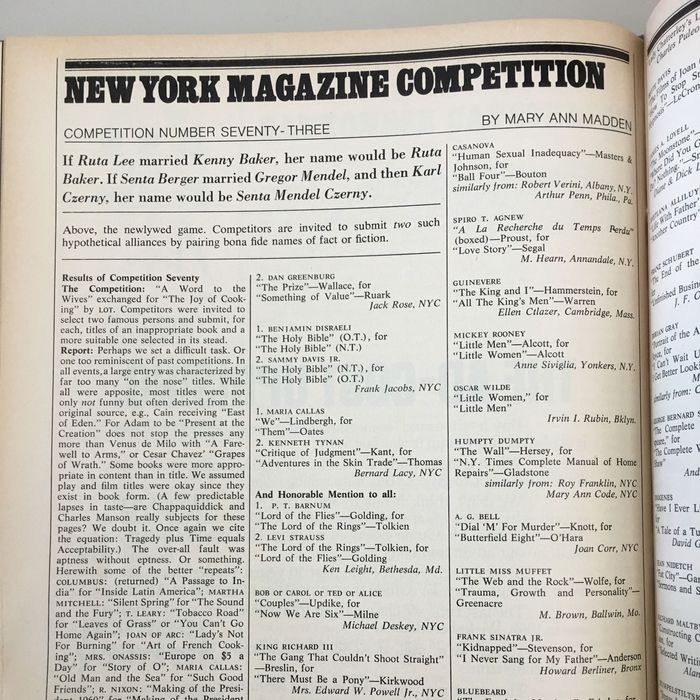 There were 973 of these, every one funny.
We are very sad to report that Mary Ann Madden, the creator of the New York Magazine Competition and its editor for 973 installments over nearly 32 years, died on Tuesday after a long illness. She was 83.
The Competition first appeared in the back pages of New York in January 1969, when the magazine was less than a year old. It had been started, in part, to solve a personnel problem: From our first issue, Stephen Sondheim had signed on to create complex crosswords for the back page each week, and after a few months found the schedule too demanding. He proposed to his editors that he drop back to one puzzle every three weeks, and offered that his friend Mary Ann might create a feature for the two issues in between.
Yesterday, Sondheim recalled one (among many) examples of the verbal élan that perhaps led him to recommend her: "During a game of Bartlett's — a version of Dictionary in which the players have to make up a quotation from an author chosen by chance in Bartlett's Familiar Quotations that is convincing enough to fool the other players from choosing an authentic one — the author chosen was Dorothy Parker. Mary Ann wrote: 'If music be the food of love, count me out.' Needless to say, she won the round."
What she came up with for New York was loosely based on a similar contest in the British magazine The New Statesman. Mary Ann would post a challenge — usually requiring a bit of wordplay or other literary creativity — and competitors would enter, first by postcard, later by email. One of the first was called "One-Letter Omissions," and drew entries like "THE ENGLISH CHANEL: Mary Quant." The results would appear a few issues later, with a new Competition. (A brief best-of selection from her tenure appears below; a revived Competition began appearing on Daily Intelligencer in 2013.)
The Competition was a hit, almost immediately. The record was 9,000 entries to a single challenge, and multi-thousand-entry weeks were not uncommon. Running gags became frequent, notably one about a kangaroo telling jokes that is difficult to convey here, and another about "the bloated cadaver of poor Mrs. Hays" that grew out of one of the Competitions excerpted below. Her introduction to that week's very dark results read like this: "We truly regret lack of space to print twice as much of this ghoulash, or at least to acknowledge, by name, those responsible for excellent entries. Judging was nearly as gruesome as reading. Consider yourselves brilliant. Sick, but brilliant. Herewith the winners of our discontent." She published three books of collected results, and joked in the second one that "I didn't write this one either."
Certain consistently funny entrants (hello, Chris Doyle! Hi there, Larry Laiken!) became regulars, appearing in virtually every set of results. Fran Lebowitz, when she was still living in her hometown in New Jersey, showed up at least once. You'd see famous names sprinkled through the results as well: David Mamet, Herb Sargent, Peter Stone, Paul Desmond. David Halberstam joked—I think it was a joke, anyway—that he entered 173 times and never won. (It's true that he never won.)

All were friends of Mary Ann's, none more so than her mentor Mike Nichols. She'd been his assistant, beginning when he was half of the comedy team Nichols and May; he'd hired Mary Ann even though she couldn't type, she once told me, because she could play cribbage with him during the downtime on a movie set or in a recording studio. "Brains come first," she said he'd told her, and I believe it. A couple of her better Competition ideas, she told me, were based on "something Mike said."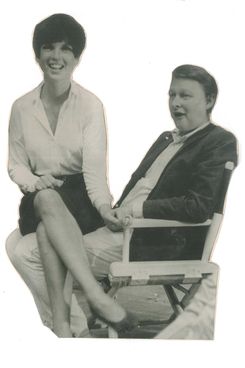 I was Mary Ann's editor for the last several years before she called it quits, and it was an extraordinary experience. She was a magnificently brilliant, sparkling conversationalist, quick and generous with ideas, books, opinions, jokes, commentary. Her taste was right about everything. (She could also, truth be told, turn dark and cutting on a moment's notice. The joy in our friendship far outstripped the bad.) She had, it's fair to say, the fastest wit I have ever experienced.
She had grown up a little like Eloise. Her father was the general manager of a hotel at 70 Park Avenue — still there despite multiple changes in ownership, now called the Iberostar — in which the family lived, and she spoke affectionately about the lobby newsstand and its stock of comic books. As an adult, she was private, and made herself a little hard to reach if she didn't trust you. She was married to, and quickly separated from, a man named Henry Madden; they remained friends until his death. Mary Ann once told me that she'd inspired Amy, the character who melts down during her wedding in Stephen Sondheim's musical Company, but yesterday, Sondheim cleared that up for me: "The song I wrote about Mary Ann was 'Buddy's Blues,' from Follies, which I read to her over the phone as I was writing it." And I'd never thought of it before, but I can hear it: Her speedy chattery voice is there, in the antic call-and-response lyrics.
Despite having that incredible network of well-known friends, with whom she kept in steady touch, she had become reclusive by the time we worked together. Ours was entirely a phone (and, later, email) relationship, of a type that few people will experience again. I knew her for 20 years, and we never met in person, not once.
I suppose it's okay, now, to reveal that the Competition results that she published bore more of her imprint than anyone knew. Often, she'd punch up weaker entries, to make them funnier. If the week's collection of entries looked a little lame to her after she turned it in, she'd get off the phone, and 15 minutes later, a couple of extras would arrive in my inbox, all of them better than the ones we'd received. One of them was usually attributed to "Grace Katz, N.Y.C." Mary Ann's cat was named Grace.
____________________________
A SELECTION OF MEMORABLE COMPETITION ENTRIES:
From Competition No. 366, "What I Should Have Said / What I Said":
1. "Look, there's a lot of traffic, and he's probably stuck in a meeting all day and didn't get your message, or he'd have called. I'm sure there's nothing to worry about."
2. "Maybe he's dead."
—Cynthia Harrison, Rockville, Md.
From No.  47, asking for a famous person's first words:
"Yoknapatawphawawa" —William Faulkner
—Dale Anderson, N.Y.C.

From No. 68, asking for a pair of rhymed quatrains ending with the Gothic line "the bloated cadaver of poor Mrs. Hays":
The butler swore vengeance on plump Mrs. Hays
Because she refused his request for a raise.
One night when the moon was enshrouded and dim
He forced the old lady to go for a "swim."
He filled up a cauldron and told her to wade.
And boiled up her brisket and served her sautéed.
Her family loved her (they had her for days!)
The bloated cadaver of poor Mrs. Hays.
—Barbara P. Alpren, West Orange, N.J.
From No. 382, in which you were asked for fanciful definitions for words beginning with the letter "K":
KERMIT — license to keep a pet frog within city limits.
—Wells Matthews, Corvallis, Ore.
KLANSMAN — a sheet-head.
—Jay Young, Sidney, N.Y.
KLIEG LIGHT—low-calorie version of famous German beer.
—Paul Stein, Paramus, N.J., and Kristen Kassavaugh, Birmingham, Mich.
From No. 33, asking for two-line poems, the first line famous, the second one not:
"By the shores of Gitche Gumee …
General Custer socked it to me."
—Miles & Judith Klein, Belle Harbor, N.Y.
From No.  281, asking for inadvertently contiguous newspaper headlines:
SIAMESE             TWINS SPLIT
IN THAILAND   DOUBLEHEADER
NEED ARMS      FINGERS TOES MOUND
—David Conti, Summit, N.J.
From No. 860, in which you were asked for the opening line of the first conversation between Martians and Earthlings:
"Abduct my wife, please."
—Leon Blitz, Passaic, N.J.
From No. 365, asking for titles that were fortunately changed before the final version:
"It's a Red Sled, Charlie Kane" — Orson Welles's film portrait of an eccentric tycoon …
—Ann Scott, Solon, Ohio
From No. 890, asking for a three-line, two-person conversation:
"That's a fabulous beach umbrella."
"Thank you — uh, Hammacher Schlemmer."
"Oh, hi,  I'm Tiffany Frobisher."
—Allan G. Sperling, Rye, N.Y.
From No. 192, asking for paired answers and questions, in that order:
A: "Shoo-fly pie and apple pandowdy makes my eyes light up, my tummy say howdy; shoo-fly pie and apple pandowdy — I never get enough of that wonderful stuff."
Q: "Et pour monsieur?"
—Dan Greenburg, N.Y.C.