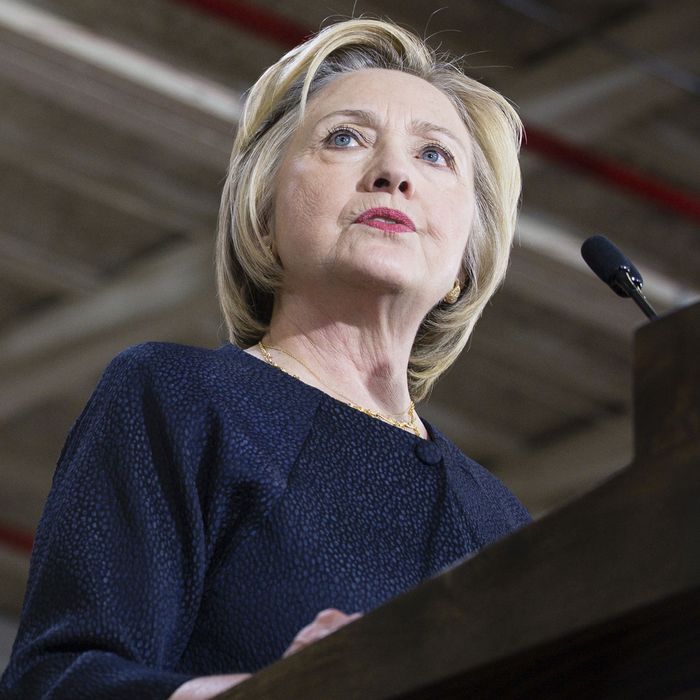 Does Putin want to email Clinton voters?
Photo: Angelo Merendino/Getty Images
A voter-data analytics program used by the Clinton campaign was accessed in a cyber attack on the Democratic National Committee, the campaign confirmed on Friday. Earlier, Reuters had reported that the Clinton campaign had become the third Democratic organization to be hacked, in addition to the DNC and Democratic Congressional Campaign Committee — but according to the Clinton campaign, the program breach was part of a DNC hack, and their internal computer system was not compromised. The intrusion was apparently discovered by outside investigators hired by the Clinton campaign. CNN reports that the hackers had access to the program for five days.
The FBI and Department of Justice are investigating the hack, and officials believe a state actor carried out the breach. Based on what U.S. intelligence officials know about the DNC and DCCC attacks, Russia is likely the prime suspect.
The Clinton campaign said in a statement on Friday that the hackers were able to access a voter-analytics program that is maintained by the DNC, but nothing else, since the campaign's internal system is independent from the one the voter-data program is on:
An analytics data program maintained by the

DNC

, and used by our campaign and a number of other entities, was accessed as part of the

DNC

hack. Our campaign computer system has been under review by outside cyber security experts. To date, they have found no evidence that our internal systems have been

compromised.
In other words, they are saying that none of the campaign's internal emails or voicemails were accessed in the hack, nor were voters' social-security or credit-card numbers. A source who spoke with the Washington Post indicated that "the hacked material was generally dull and did not include email communications, memos, research, or other potentially inflammatory communications [but mostly] innocuous data such as computer code and lists of email addresses."
It's not entirely clear yet, as the New York Times points out, whether the breach of the analytics program, and the hacks on the DNC and DCCC, were all just part of a single cyber attack.
The post has been updated throughout.