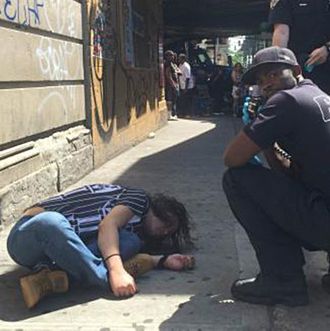 The scene in Bed Stuy.
Photo: DNAinfo/William Mathis
K2 — the cheap, synthetic marijuana that's sold at bodegas — has created "zombie" lands in pockets of New York, including East Harlem and Bed-Stuy, where the dollar-high epidemic has recently hit crisis levels. Tuesday proved why: At least 33 people were hospitalized after an apparent mass K2 overdose. Some were taken to the hospital in critical condition.
A man posted a Facebook video of the apocalyptic scene, including emergency workers tending to some of the apparent overdose victims. "They gotta run to one over here, and then they got to run to one over there. That's crazy."
"This is twisted. Twisted, twisted, twisted," he says. "K2 got them bugging. Holy shit. This is crazy."