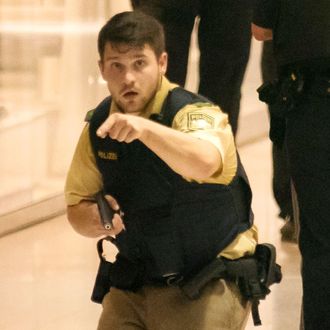 Police secure the area inside a shopping center in Munich on July 22, 2016.
Photo: STR/AFP/Getty Images
At least nine people are dead after a "shooting rampage" near a large mall in Munich, Germany. Police recovered a tenth body, belonging to the shooter, who turned the gun on himself. At least 27 people are injured, some very seriously. Most of the victims were in their teens.
Sonboly fits the profile of many other mass shooters. He had recently been in psychiatric care, where he was treated for depression. He was apparently obsessed with mass violence, and police found a German version of an American academic book: Why Kids Kill: Inside the Minds of School Shooters. Sonboly reportedly also had many other articles about shooting massacres in Germany and elsewhere. The German newspaper Bild reported that students at his school claimed Sonboly kept a picture of Anders Breivik, the right-wing extremist who killed 77 people in Norway on July 22, 2011. Friday was the fifth anniversary of the massacre.
Authorities believe Sonboly acted alone, but the shooting ignited a massive manhunt Friday evening in Munich, after witnesses reported seeing three men with "long guns." The city went into total lockdown: the transit and central rail terminal shuttered, drivers were asked to stay off the roads, and police instructed people to stay at home and avoid public places. Early Saturday, police gave a "cautious all clear" after confirming a "high probability" that the gunman acted alone and was now deceased.

The rampage reportedly continued in the mall's parking garage and inside the mall, according to CNN.
Police and emergency vehicles swarmed the area when the first shots were reported near the McDonald's, but the gunman had already fled, reports The Guardian. Police shut down the mall and evacuated it over several hours. The majority of the victims were attacked inside the mall. Some videos show panicked people fleeing the area:
Police have released few details about how the attack unfolded. Authorities were unsure of how many people had carried out the rampage for most of Friday night, which created a confusing and chaotic situation on the ground. "We believe we are dealing with a shooting rampage," a Munich police spokesperson said. She added:
We believe there was more than one perpetrator. The first reports came at 6 p.m. The shooting apparently began at a McDonald's in the shopping centre. There are still people in the shopping centre. We are trying to get the people out and take care of them.
Nurses and doctors were called in to area hospitals, which had been placed in "catastrophe mode." Spotty information about casualties added to the sense of confusion. The New York Times met a family desperately going hospital to hospital in search of a son who had gone to the mall, and who was separated from his sibling when the gunman approached. Their boy was apparently shot. "I have no information," Souleyman Daitzik, the father, told the Times.  "I don't even know if my child is alive or dead."
Reports of gunfire in other parts of the city intensified the mayhem. Rumors emerged of a shooting in a subway station, but that was quickly denied by the Munich Fire Department. Other false stories of a shooting near the city center surfaced.
Munich police implored people to stay home most of the night:
Authorities are also requesting that witnesses refrain from posting on social media, though they have asked for any videos that might help in the investigation:  
The Guardian reports that many Munich residents were using the hashtag #offentür on social media — similar to #PorteOuverte, used during the Paris attacks in November — to offer shelter to those who were out in the city.
Munich police officials initially called it a likely terror attack, but stressed that there was no indication it was linked to Islamic terrorism. "We cannot rule out that it is linked to terrorism," Peter Altmaier, Chancellor Angela Merkel's chief of staff, said. "We can't confirm it either, but we are also investigating in this direction." No group had claimed responsibility for the shooting.
Police have not confirmed the shooter's motive, even as a profile emerges of a depressed teen enthralled with mass casualties. Reports from witnesses soon after the attack gave rise to theories of both ISIS extremism or far-right anger over Germany's "open-door" policy to refugees. (The country accepted about 1 million migrants last year, and backlash is growing.) One woman named Lauretta told CNN she heard a gunman shout "Allahu Akbar" (God is great). "I know this because I'm Muslim," she said. "I hear this and I only cry." Yet unverified video footage from the scene appears to show an alleged shooter, screaming, "You fucking Turks!" and, "I am German, I was born here." 
Germany was already on alert after an ax-wielding teenager attacked passengers on a train in southern Germany earlier this week. ISIS claimed responsibility for the slashings, but authorities haven't found a direct tie to extremists so far.
This post has been updated throughout.