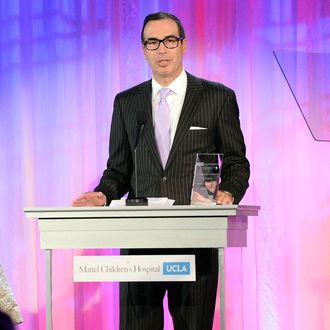 Steven Mnuchin.
Photo: Jason Merritt/Getty Images
On Monday, Trump campaign manager Paul Manafort suggested that Wall Street donors exert undue influence over Hillary Clinton. Announcing that the GOP platform would call for breaking up the big banks, Manafort told reporters, "We believe that the Obama-Clinton years have passed legislation that has been favorable to the big banks, which is one of the reason why you see all of the Wall Street money going to her. We are supporting the small banks and Main Street. "
This line of attack has some potential appeal. Americans don't hold Wall Street in high esteem these days, and Clinton really does have deep political and personal ties to the finance industry. She really did make hundreds of thousands of dollars giving speeches to Goldman Sachs, which she now refuses to make public. And while her legislative agenda isn't particularly friendly to the banking industry (far less friendly than Trump's, in fact), her coziness with Wall Street could affect areas of policy the public pays less attention to.
For example, the secretary of the Treasury has a lot of power to influence the strength of the U.S. dollar. And while much of the American working class would benefit from a weaker dollar — which would make U.S. exports more competitive, thereby stimulating domestic employment — the finance industry tends to prefer a strong one (as do upper-middle-class professionals who vacation overseas). Cabinet appointees matter. Trump could point this out, while reminding his supporters that his personal wealth insulates him from such special interests, a point that was central to his appeal with primary voters.
Or he could publicly advertise his intention to appoint one of Hillary Clinton's Wall Street donors to the Treasury Department. According to Fortune, the mogul is taking door two. The magazine reports that Trump recently assured prospective donors that he would nominate former Goldman Sachs banker Steve Mnuchin for U.S. Treasury secretary. In addition to being a former Clinton donor, Mnuchin has also worked with investment groups affiliated with liberal fundraiser and right-wing boogeyman George Soros. Mnuchin became the Trump campaign's finance chairman earlier this year.
If true, Fortune's report leads to a pair of shocking conclusions:
1. Donald Trump's economic populism may not be sincere.
2. Donald Trump may not actually have enough personal wealth to insulate him from donor influence.