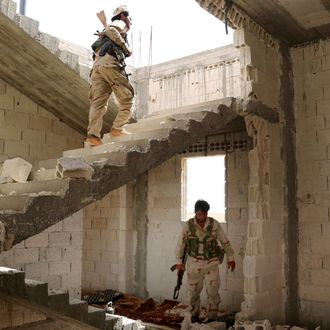 Fighters from Syria's Manbij military council are seen on June 15, 2016.
Photo: Delil Souleiman/AFP/Getty Images
United States–led air strikes are supporting allied rebel forces on the ground in an operation to recapture the ISIS-held city of Manbij. The rebels succeeded in retaking ISIS's headquarters. But the bombing operations appear to have taken a terrible toll on the civilian population: According to human-rights groups, at least 56 people, including 11 children, were killed Tuesday during air raids allegedly carried out by the U.S.-led coalition. As many as 160 civilians may have died in air strikes since the operation to seize Manbij began at the end of May. That number includes 29 children and 16 women, according to the Syrian Observatory for Human Rights, which calculated the death toll.