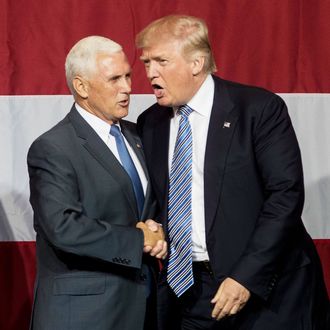 Trump-Pence 2016.
Photo: Aaron P. Bernstein/Getty Images
After a day of manufactured sus-Pence, Donald Trump made his choice for vice-president official Friday morning.
The presumptive GOP nominee had initially planned to announce his running mate at a news conference Friday, but decided to postpone the event because of his "emotional reaction" to the atrocity in Nice, France.
On Thursday, the Indianapolis Star reported that the Indiana governor would be dropping his reelection bid to join Donald Trump's ticket. The New York Times, meanwhile, heard that the Trump campaign had told Republicans in Washington that Pence would be the mogul's choice for vice-president. The veepstakes were over, the Pence takes began.
But just before the last act of this reality show's finale, Trump added a twist. The Washington Post's Robert Costa reported that Trump had not yet actually told Pence that he was the one. The campaign pushed a dramatic story line featuring last-minute second thoughts and intrafamilial disputes:
Pence was widely viewed as Trump's least-bad option. While the governor is deeply unpopular in his home state, he isn't an audacious loudmouth shrouded in scandal, which is more than one can say about his veepstakes co-finalists Chris Christie and Newt Gingrich. The Indiana governor is a bag of day-old white bread — bland and unappetizing, but unlikely to upset anyone's stomach, and held in high regard by social conservatives.
However, the fact that Pence is an utterly ordinary Republican is both a strength and a weakness. While it builds Trump's credibility with his party's ideological conservatives, it also makes him an odd partner for a free-trade heretic (and religious discrimination enthusiast) like Donald J. Trump.
The news is a devastating blow to New Jersey governor and aspiring Trump butler Chris Christie.
"I'm a competitive person, so I'm not gonna say it won't bother me if I'm not selected," Christie told MSNBC. "Of course it bothers you a little bit, because if you're a competitive person like I am and you're used to winning like I am, again, you don't like coming in second. Ever."