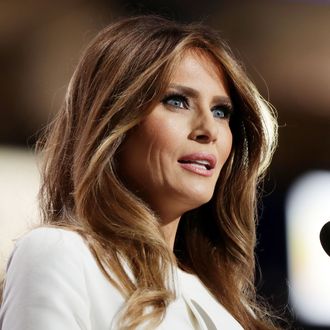 Sometimes gonna give you up, occasionally gonna let you down.
Photo: Chip Somodevilla/Getty Images
On Monday night, Melania Trump delivered a speech that featured many anodyne platitudes and no primal shouting about the need for Hillary Clinton's extrajudicial imprisonment. This made it one of the better speeches of the 2016 Republican Convention. Or, rather, it made it one of the RNC's better speeches for the 40 minutes it took journalist Jarrett Hill to realize that a full paragraph of Melania's address was cribbed from Michelle Obama's speech to the 2008 DNC.
This is not a thing that happens. Not during national political conventions — the most carefully stage-managed spectacle in all of American politics. Not in 2016, when anyone with an internet connection can access free software designed to detect plagiarism. And so, the word on the tip of every Republican operative's tongue for the past 24 hours has been, "How?"
Trump campaign manager Paul Manafort has offered a two-word answer: Hillary Clinton. For all of Tuesday, the official line was that Melania and Michelle had simply connected to a common zeitgeist and the press's incessant nattering about plagiarism reflected nothing more than Crooked Hillary's rigging of the entire American media. Republican National Convention chief strategist Sean Spicer argued that, if Trump had plagiarized Obama, well, then, Obama had plagiarized Twilight Sparkle from My Little Pony, who also believed in following your dreams.
But on Tuesday night, a more convincing explanation is coming into view. NBC News has obtained a copy of the original speech prepared for Mrs. Trump, as written by veteran speechwriters Matthew Scully and John McConnell (the scribes provided corroborating emails). According to the network, the first draft did not include any recycled Michelle Obama material.
But Melania was reportedly "uncomfortable" with that text, and set about drastically rewriting it, to make it more her own — and ended up making it, transparently, someone else's.
Per, the New York Times:
It was Jared Kushner, Mr. Trump's son-in-law and top adviser, who commissioned the speech from Mr. Scully and Mr. McConnell — and praised their draft. But Ms. Trump decided to revise it, and at one point she turned to a trusted hand: Meredith McIver, a New York City-based former ballet dancer and English major who has worked on some of Mr. Trump's books, including "Think Like a Billionaire." It was not clear how much of a hand Ms. McIver had in the final product, and she did not respond to an email on Tuesday.

Research for the speech, it seems, drew them to the previous convention speeches delivered by candidates' spouses.
From the Times' report, it's not totally clear whether their sources have specific evidence for McIver's involvement in the fatal error. But NBC names another individual who dropped the ball:
The campaign repeatedly refused to identify who, if anyone, helped her craft the speech, though multiple sources told NBC News that Rick Gates, a top aide and ally of Manafort, signed off on the final text.
Let it burn.