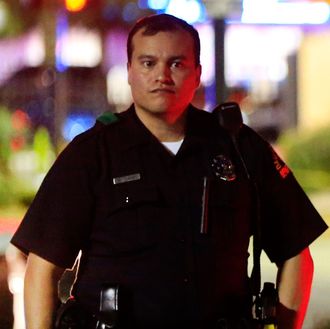 Amid shock over shootings of police in Dallas, some conservatives rise to the occasion, and others go straight to demagoguery.
Photo: Ron Jenkins/Getty Images
In the immediate wake of events as horrific as those that occurred in Dallas Thursday night, some opinion-leaders get a grip on themselves and wait for evidence and perspective, while others use the shock to feed their own beasts of prejudice or fury. To the surprise of many, given his intemperate and self-serving reaction to the Orlando nightmare, presumptive Republican presidential nominee Donald Trump joined the former camp when the news broke from Dallas.
The first two sentences of Trump's official statement on Dallas sounded a note that could have veered off into law-and-order demagoguery:
Last night's horrific execution-style shootings of 12 Dallas law enforcement officers – five of whom were killed and seven wounded - is an attack on our country. It is a coordinated, premeditated assault on the men and women who keep us safe.

We must restore law and order. We must restore the confidence of our people to be safe and secure in their homes and on the street.
But then came the rest:
The senseless, tragic deaths of two people in Louisiana and Minnesota reminds us how much more needs to be done.

This morning I offer my thoughts and prayers for all of the victims' families, and we pray for our brave police officers and first responders who risk their lives to protect us every single day.

Our nation has become too divided. Too many Americans feel like they've lost hope. Crime is harming too many citizens. Racial tensions have gotten worse, not better. This isn't the American Dream we all want for our children.

This is a time, perhaps more than ever, for strong leadership, love and compassion. We will pull through these tragedies.
By viewing all of this week's victims of violence as worthy of sympathy and the country's divisions as reason for concern rather than vengeful and aggressive action to exploit them, Trump's statement poured oil on troubled waters.
Unfortunately, some of Trump's fellows on the political right were not so measured.
The absolute worst came from the Drudge Report, whose initial headline from Dallas was "Black Lives Kill." Breitbart.com and Newsmax.com had the same thought, featuring the "I want to kill white people" quote from one of the alleged murderers. The New York Post's front-page headline this morning was not exactly designed to inspire calm and perspective either: "CIVIL WAR."
That's some of the hysteria from conservative media. In the Twitterverse, naturally, it got worse; the reaction of former Republican congressman Joe Walsh was notable:
"3 Dallas cops killed, 7 wounded," former Rep. Joe Walsh, an Illinois Republican, wrote just before midnight, in a tweet that is no longer on his profile: "This is now war. Watch out Obama. Watch out black lives matter punks. Real America is coming after you."
The "Watch out Obama" line will probably earn Walsh a visit from the Secret Service. But the "civil war" meme, once out there, could be difficult to wish away.