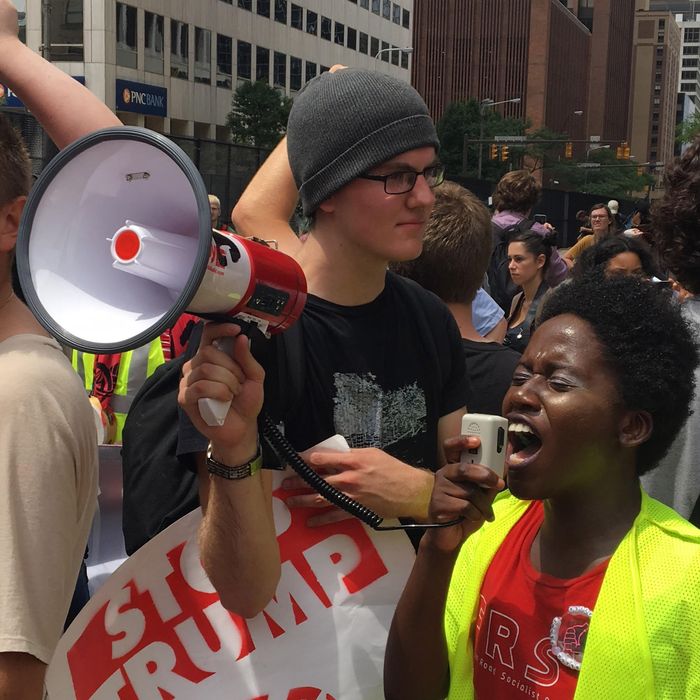 The official name of Monday's anti-Trump protest in Cleveland, according to the Facebook group that organized the event, was "March on the RNC: Dump Trump; Say No to the Republican Agenda; Stand Against Racist Anti-Immigrant and Anti-Muslim Attacks."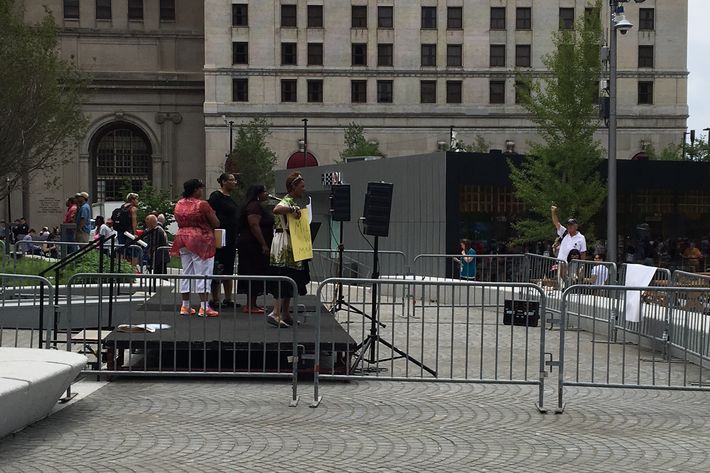 The scene reinforced a sense that I had earlier in the morning, following my first trip into the area surrounding the Quicken Loans Arena, site of the Republican National Convention: There were not many black people around — even in a town that's half black.
To put it another way, the Republican National Convention is white as hell.
I caught up with a much larger group of protesters, who were already mid-march, just beyond the square. It was hot, an unfortunate circumstance given that I had just put on a suit and tie. Earlier in the day, I had been a black man in the middle of the RNC, wearing red high-top Nikes, gray pants, a polo, and a hat that said "New York" in cursive — a tell that perhaps I was associated with the liberal East Coast media. In that getup, I was turned away from an event, greeted with "Can I help you?" followed by, "This is a private event," followed by four individuals behind me gaining entry without question.
I decided a better strategy might be dressing like a young, black Republican intern — say, from Charleston or Savannah. The protest's movement through the streets of Cleveland was oddly organized and calm, as were the interactions with the authorities, who were around in large numbers.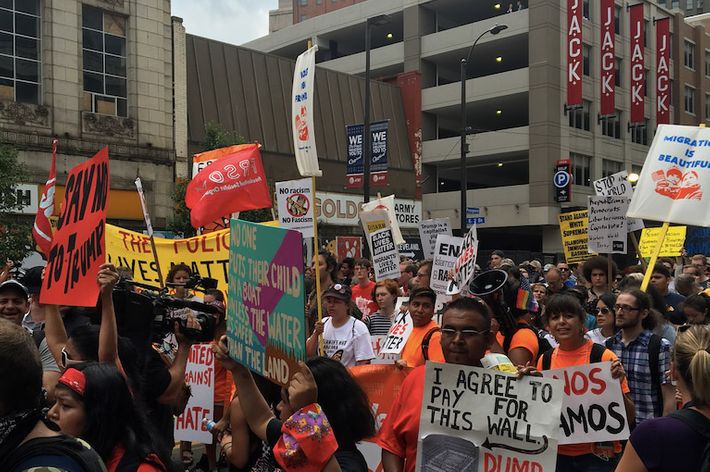 There were groups of all types, signs of all types, and chants of all types. The signs ranged from "Defend Black Lives Matter" to "Dump Trump, Reject The Neoliberal Republican Agenda" to "Stop the World War on Migrants" to "Fuck Nazi Scum." The chants included, "The people / united / will never be defeated," "We shut shit down," and "Donald Trump / Go Away / Racist, Sexist, Anti-Gay."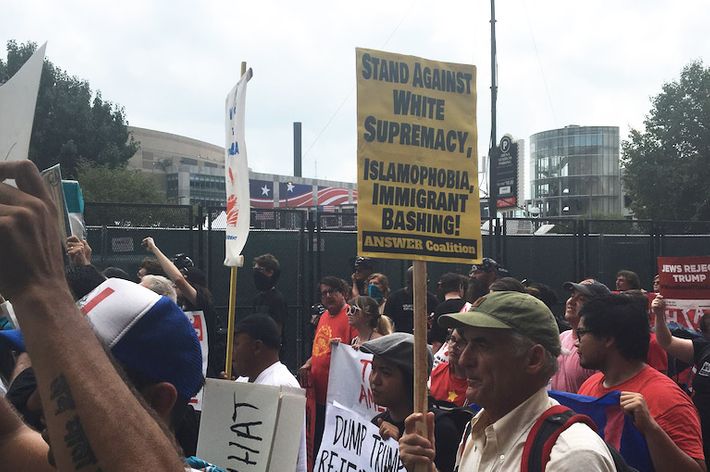 As is true in many protests, the people with megaphones had a lot of power over what was chanted. In this case, there were a lot of people with megaphones. But there wasn't a moment when it appeared as if any rule would be broken. There wasn't a moment that felt dangerous, as if conflict were possible between the police and the protestors. And, with the huge scrum of cameras and reporters in the front of the actual protest, walking backwards, filming the event, it felt like it was made more for Facebook Live than Cleveland, Ohio.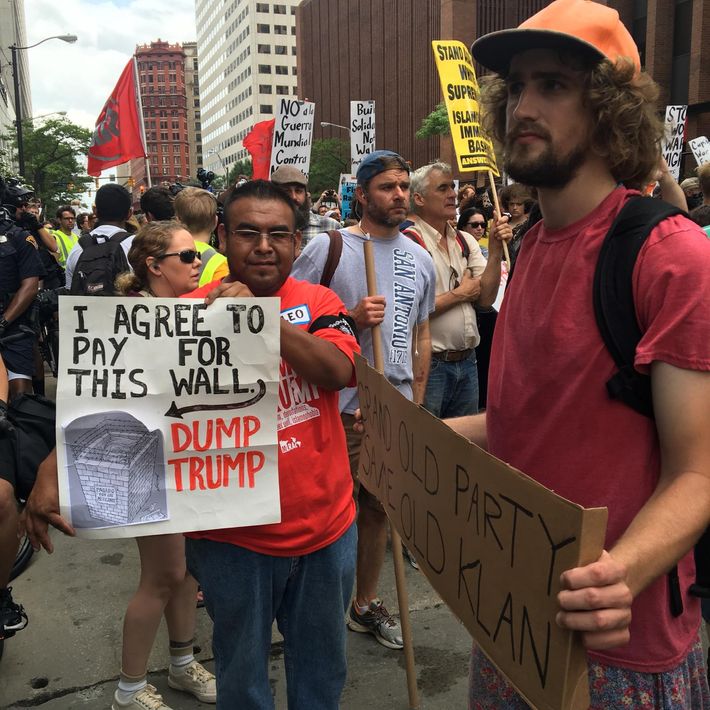 Making my way through the crowd to the back of the protest, I heard a chant of "Black Lives Matter." It was a small group of black people, as a united front, here with one message.
Each participant was wearing a black shirt that had Uncle Sam's picture on the front with red Xs over his eyes, with the text "I Ain't Voting Until #BlackLivesMatter." They were the last line of defense in the rally, with dozens of cops behind them pulling up the rear.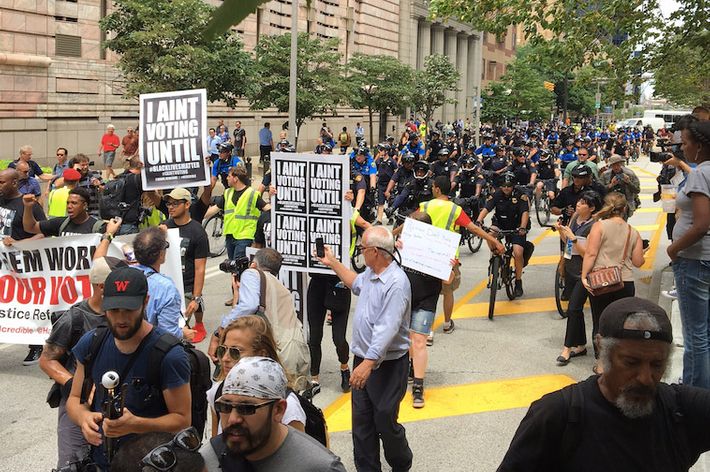 The leader of this group was a man named Hawk Newsome. His group drove to Cleveland from New York and is turning back around tomorrow. He quickly echoed my sentiment from the morning: "There's not a lot of us here."
I met the rest of the men that accompanied him, and was given a shirt. Walking away, I tried to make sense of what had happened over the past 90 minutes. The protest was not typical. There was no unified voice, no obvious leadership. There was almost no latent sense of conflict. Perhaps in this setting, that was a good thing.
What the protest was most of all, however, was a display of how many different types of discriminated-against people feel as if they — and the people they love — will be in jeopardy if Donald Trump becomes the president of the United States.
Are all of these groups sorely outnumbered in Cleveland this week? Absolutely. But there seemed to be an understanding that, at least today, the point wasn't to win the week — it was to show how many people are fed up and how much is on the line in November.