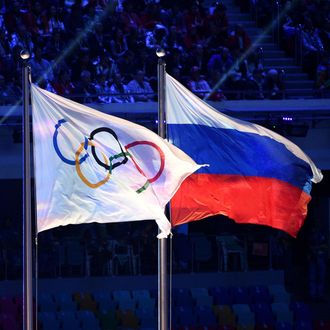 There might be one less flag in Rio next month.
Photo: Andrej Isakovic/AFP/Getty Images
This year's Summer Olympics in Rio de Janeiro may be off-limits to Russia's entire delegation of athletes, if an international group of ten anti-doping organizations and 20 athlete groups gets its way. The New York Times reports that anti-doping officials believe that a new report, likely out Monday, will confirm that Russia has been operating a widespread, state-sponsored doping program for its athletes; they have drafted a letter formally requesting the country's team be banned. Though Russia has repeatedly denied having any such program, a previous report detailed how Russian anti-doping officials covered up evidence of steroid-tainted urine at the Sochi games on the orders of the Russian government, and indicated that dozens of athletes cheated at those games — including 15 who won medals. Following a previous report, track and field's governing body already made the decision to ban Russian athletes from those competitions at this year's Olympics, a ban which the International Olympic Committee has since upheld.