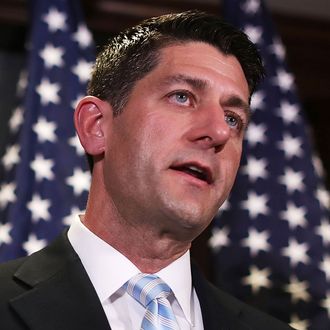 Paul Ryan.
Photo: Alex Wong/Getty Images
To ensure that U.S. presidents enter office fully prepared for their new gig, America's intelligence agencies provide major-party nominees with classified security briefings throughout the fall campaign. But this year, House Speaker Paul Ryan would like those agencies to make an exception. In a letter released Thursday, Ryan calls on Director of National Intelligence James Clapper to deny Hillary Clinton access to classified information, as punishment for her "extremely careless" use of a private email account while serving as secretary of State.
"As you know, the FBI's investigation of Secretary Clinton's unauthorized personal e-mail found substantial evidence that Secretary Clinton and her staff were 'extremely careless in their handling of very sensitive, classified information,'" Ryan wrote. "While declining to recommend changes, Director Comey stated that 'this is not to suggest that in similar circumstances, a person who engaged in this activity would face no consequences. To the contrary, those individuals are often subject to security or administrative sanctions.'"

"Given the FBI's findings," the Speaker continued, "denying Secretary Clinton access to classified information certainly constitutes appropriate sanctions."
Should Clinton become president-elect in November, she'll gain a legal right to intelligence access, so Ryan's ban would only be in effect until Election Day.
As a bid to keep the FBI's "damning non-indictment" of Clinton in the headlines (and the presumptive GOP nominee's stubborn defense of a neo-Nazi meme out of them), Ryan's letter makes perfect sense. As a sincere proposal, however, the suggestion is a bit odd. At present, Clinton is the overwhelming favorite to become the next president of the United States. It's hard to see how it could be in the interests of the American people to make a presidential front-runner less informed about national-security developments.