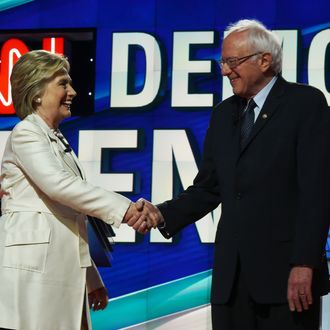 Political resolution.
Photo: JEWEL SAMAD
Bernie Sanders is finally going to endorse Hillary Clinton. Probably.
On Wednesday evening, multiple outlets reported that the Clinton and Sanders campaigns were finalizing the terms of the Vermont senator's endorsement, and discussing the possibility of holding a joint rally next week in New Hampshire. Later that night, Sanders confirmed those reports.
"I think at the end of the day, there is going to be a coming together," Sanders told MSNBC's Chris Hayes. "And we're going to go forward together and not only defeat Trump, but defeat him badly."
"So, you're not denying the report that there are talks about a possible endorsement?" Hayes asked.
"That's correct," Sanders replied.
Sanders's confirmation of a "possible endorsement" came on the same day that he was booed by a few of his colleagues on Capitol Hill. According to Politico, after a House Democrat asked Sanders why he had yet to endorse the presumptive nominee, the Vermont senator replied, "The goal isn't to win elections. The goal is to transform America." A few of his fellow lawmakers loudly disagreed.
Meanwhile, Hillary Clinton unveiled a new plan for college affordability that was, in essence, Sanders's plan for free public college, only limited to families that make under $125,000 a year. This resemblance was not coincidental. According to the Vermont senator and independent reports, the plan is the product of weeks of negotiations between the two campaigns. Sanders lauded Clinton's plan as a "bold initiative" that would "revolutionize the funding of higher education in America."
In his interview with MSNBC Wednesday night, Sanders suggested that he was hoping to extract a few more compromise proposals on health care and climate change before falling in line, promising, "I am going to use all the leverage I have."
But there's reason to think Clinton's capitulation on free public college will be her last major concession. Considering Sanders's dominance of the youth vote, it makes sense that she'd glom onto the part of his platform most directly pitched at that demographic. And on health care, Clinton has already moved toward the Vermont senator, reiterating her support for the public option and proposing a Medicare buy-in program.
Regardless, it seems safe to assume that Sanders's endorsement is imminent, since Joe Biden already blurted out as much.