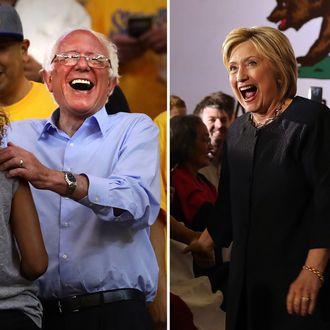 Best friends? Not yet.
Photo: Getty Images
Will Bernie Sanders ever concede defeat to Hillary Clinton? Will he endorse her and campaign for her, even after their often rancorous primary battle? These are among the big questions on Democrats' minds as Clinton looks to unite the party behind her when she accepts the nomination in Philadelphia next month — and they remain unanswered, despite murmurs on Thursday that the Vermont senator was finally ready to do so.
On Thursday afternoon, NPR Weekend Edition Sunday host Rachel Martin tweeted that Vice-President Joe Biden, in an interview that will air this Sunday, had told her: "I've talked to Bernie. Bernie is going to endorse her." This teaser raised hopes that the great show of party unity many Democrats believe is necessary to consign Donald Trump to the dustbin of weird presidential-campaign history was finally imminent.
Alas, it may not be so. Appearing on MSNBC's All In With Chris Hayes on Thursday evening, Sanders declined to confirm that he was prepared to endorse Clinton — or that he ever would. Asked about Biden's statement, Sanders replied: "Look, on that issue, we are trying to work with Secretary Clinton's campaign on areas that we can agree on," before reciting a laundry list of those issues, including free public college and universal health care, on which his supporters wanted to reach said agreement.
Pressed repeatedly by Hayes, Sanders fell back on his talking points, never giving a "yes" or "no" answer to the question of whether he would properly endorse the presumptive Democratic nominee.
"I'm going to do everything I can to defeat Donald Trump," he insisted, but when Hayes asked if that meant he would actually endorse, stump for, and do "the kind of thing that's standard" to support Clinton, he again declined to answer straightforwardly, saying only that his campaign was working to ensure that the Democratic platform was the most progressive platform in the party's history.
"We are working with the Clinton campaign, trying to be able to come forward to my supporters and say: You know what, here's the progress we have made."
This latest equivocation comes mere days after Sanders dropped an op-ed in the New York Times in which he echoed many of Trump's criticisms of free trade, claiming (incorrectly) that globalization was a raw deal for working people around the world, not only in the United States, and warning that working-class resentment of the uneven gains from free trade could carry Trump to the White House if the Democratic Establishment didn't start confronting inequality more directly.
Sanders was categorical, however, in rejecting Trump's claim that he despised Clinton personally. "We have disagreements on issues," he told Hayes, "but to say that I hate her is absolutely untrue."