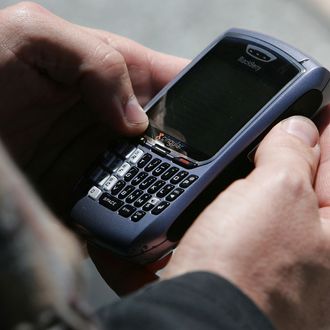 Fine, just don't take away their MySpace pages.
Photo: Justin Sullivan/Getty Images
The Senate is ending its practice of handing out Blackberry smartphones to staffers, Politico reports. The Sergeant at Arms informed staffers on Thursday that, as the phones have been discontinued for some time, it could no longer replenish its current supply of around 600 Blackberries of various models.
Politico notes that "a small, loyal band of staffers" remains devoted to the relic of an earlier era in mobile technology. Most staffers on Capitol Hill now use iPhones or Androids like the rest of us, but the Blackberry will live on in our historical memory as the must-have device of Washington movers and shakers in the early smartphone era.
Indeed, for at least one former senator, that association is damn near immortal.