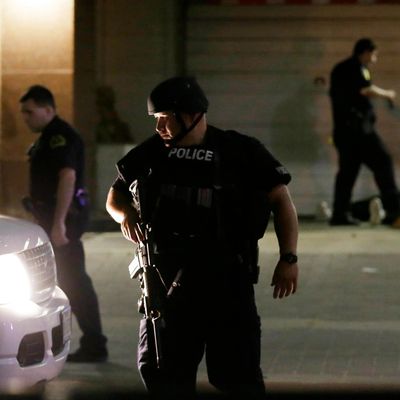 Photo: LM Otero/The Associated Press
A sniper opened fire in Dallas during a rally protesting recent police shootings on Thursday night, killing five police officers and wounding seven officers and two civilians. It is the worst mass shooting of police officers in American history and the deadliest day for law enforcement since 9/11, according to the Washington Post.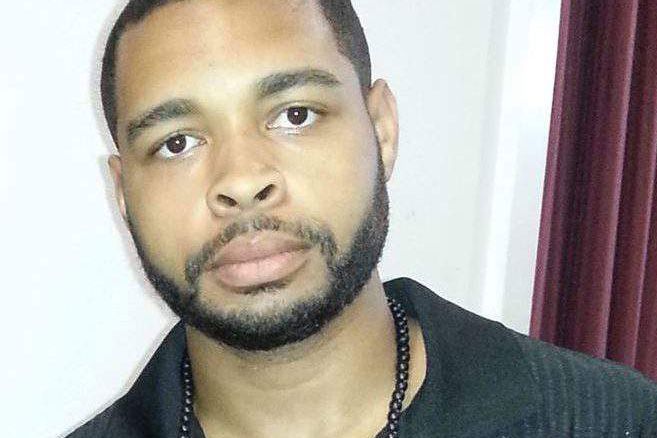 Police deployed a robotic explosive device, which detonated and killed Johnson. "The other options would have exposed our officers to great danger," said Dallas police chief David Brown. Chief Brown said Friday that the man told hostage negotiators he was upset about Black Lives Matter and the recent police shootings. "The suspect said he was upset at white people," Chief Brown said. "The suspect stated he wanted to kill white people, especially white officers."
The attacker told police that he was not affiliated with any other group, and that he acted alone. Police originally were hunting for multiple gunmen but now believe that just one shooter — Johnson — carried out the well-planned attack. Three people remain in custody in connection with the shooting, according to Chief Brown, though police have not said how or why they might be involved.
Police, who called Johnson a "loner," raided the suspect's home in Mesquite, a suburb of Dallas, Friday afternoon. There, authorities uncovered a cache of weapons: bomb-making materials, bulletproof vests, rifles, and what one Dallas police officer described as a "personal journal of combat tactics."
"There are no words to describe the atrocity that happened to our city," Chief Brown said. "All I know is this must stop, this divisiveness between our police and our citizens. "
Shots rang out at 8:58 p.m., as the protest over the deaths of Alton Sterling and Philando Castile was winding down. Chief Brown said the officers and civilians were shot from an elevated position. "We believe that these suspects were positioning themselves in a way to triangulate themselves from two different perches and garages in the downtown area and planned to injure and kill as many law-enforcement officers as they could," he said. 
The attacker involved in the standoff had fired shots at police and claimed to have planted bombs "all over the place in this garage and downtown." A bomb squad was investigating a suspicious package found near the scene of the shoot-out. Police did at least two sweeps of the entire downtown area for explosives but did not find anything in their search. As of Friday morning, police were still treating a huge swath of downtown Dallas as an active crime scene.
Those in custody include a person captured in the parking garage and two people seen fleeing the scene of the shooting in a black Mercedes. Just before midnight, an officer spotted one of the suspects carrying a camouflaged bag and walking quickly down Lamar Street. They threw the bag in the car and sped off. Police followed the vehicle and performed a traffic stop on Interstate 35E.
At one point, police released a photo of a man they called "one of our suspects," but, a short time later, they said he'd turned himself in. On social media, witnesses said he was not involved in the shooting, and video surfaced of him handing over his weapon to police.
The man, later identified as Mark Hughes, said after his release that officers never apologized for telling the nation that he was a suspect.
There were rallies against police violence across the nation on Thursday night, and about 800 people gathered at Market and Main Street in Dallas, which is near the John F. Kennedy Memorial Plaza. While there were at least 40 arrests during the New York protest, the Dallas rally was calm. As several people noted on Twitter, Dallas police were actually posing with protesters earlier in the day:
"This was peaceful. This was peaceful," Stacey Brown told the Dallas Morning News. "We were headed back to our cars to go home. But we turned that corner [at Main Street] and all hell broke loose."
Several videos posted on social media captured the chaos, and one shows a gunman shoot an officer in the back with an assault-style rifle:
This Facebook Live video shows officers taking cover as many rounds are fired. The man filming says he can see two officers down.
"Everyone just started running," Devante Odom, 21, said. "We lost touch with two of our friends just trying to get out of there."
People on the street were told to clear the downtown area, and others sheltered in place.
Carlos Harris, who lives in the area, told the paper the shooters "were strategic. It was tap, tap, pause. Tap, tap, pause."
Four of the victims were Dallas police officers, and one was a Dallas Area Rapid Transit officer identified as Brent Thompson. Three other DART officers are among the wounded. Chief Brown said earlier that some of those injured have been released.
Officials have not publicly confirmed the names of the other dead police officers, but Dallas Morning News said friends and family have named the victims as: Lorne Ahrens, 48, a 14-year veteran who died after surgery in a Dallas hospital; 40-year-old Michael Krol, who was an 8-year veteran and had also worked for law enforcement in Michigan; and 55-year-old Michael J. Smith, a former Army Ranger and father of two girls.
Dallas police officer Patrick Zamarripa was also among those killed. Zamarripa, 32, was reportedly on bike patrol in downtown Dallas when the ambush began. The Washington Post reports that Zamarripa, a father to two kids, served three tours of duty in Iraq. He had been a police officer for five years. "He comes to the United States to protect people here," his father, Rick Zamarripa, told the Post. "And they take his life."
One wounded civilian was identified as 37-year-old Shetamia Taylor. Her sister, Theresa Williams, told the Associated Press that Taylor was at the protest with her four sons, ages 12 to 17. She threw herself over her sons when the shooting started, and was shot in the calf. 
Authorities have not yet pinned down a specific motive for the attack, besides the unsettling comments about wanting to kill white police officers that Johnson made to the hostage negotiators. Officials said it's too early to know if he had any connection to the demonstration — though it seems the route was known to the suspect. "How would you know to post up there?" Chief Brown said. "So we're leaving every motive on the table of how this happened and why this happened." The three people in custody are reportedly not cooperating or offering cops many details.
As BuzzFeed noted, several Black Lives Matter activists condemned the shooting, including Dominique Alexander, one of the organizers of the Dallas protest:
Dallas mayor Mike Rawlings called the attack a "heartbreaking moment." He also lauded the Dallas Police Department Friday morning. "This police department trained in de-escalation before [other] cities in America did," Rawlings said. "We are one of the premier community-policing cities in the country. We have the fewest police-officer-related shootings of any large city in America, so we're working hard to improve.
"There is always room for improvement," Rawlings said. "But we're best in class, we feel."
Texas governor Greg Abbott was on an out-of-state trip when the shooting occurred and was headed back to Dallas. He issued this statement:
President Obama, who is in Poland for a NATO summit, called the shooting a "vicious, calculated, and despicable attack on law enforcement." He said, "Yesterday, I spoke about our need to be concerned as all Americans about racial disparities in our justice system. The vast majority of [police] do their job in outstanding fashion. We need to be supportive of those officers who do their job each and every day, protecting us and protecting our community."
Attorney General Loretta Lynch, in a Friday address, described the Dallas attack as an "unfathomable tragedy" and said that the ambush on officers, as well as the police-involved, fatal shootings of Alton Sterling in Baton Rouge, Louisana, and Philando Castile in Minnesota, amounted to a "week of profound grief and hearbreaking loss." Lynch continued: 
Americans across our country are feeling a sense of helplessness, uncertainty, and fear. These feelings are understandable, and they are justified. But the answer must not be violence. The answer is never violence. Rather, our answer must be action. Calm, peaceful, collaborative, and determined action. We must continue to bring trust between communities and law enforcement. We must continue working to guarantee every person in this country equal justice under the law. And we must take a hard look at the ease with which wrongdoers can get their hands on deadly weapons and the frequency with which they use them. And we must reflect on the country that we want to build, and the kind of society that we are choosing to pass on to our children.

And above all, we must reject the easy impulses of bitterness and rancor and embrace the diffcult work, but the important work, the vital work, of finding a path forward together.
Lynch added that peaceful protesters should not be "discouraged by those who use … lawful actions as a cover for heinous violence." She concluded with a plea to the entire country: "To all Americans, I ask you, I implore you: Do not let this week precipitate a new normal in this country."
This post has been updated throughout.