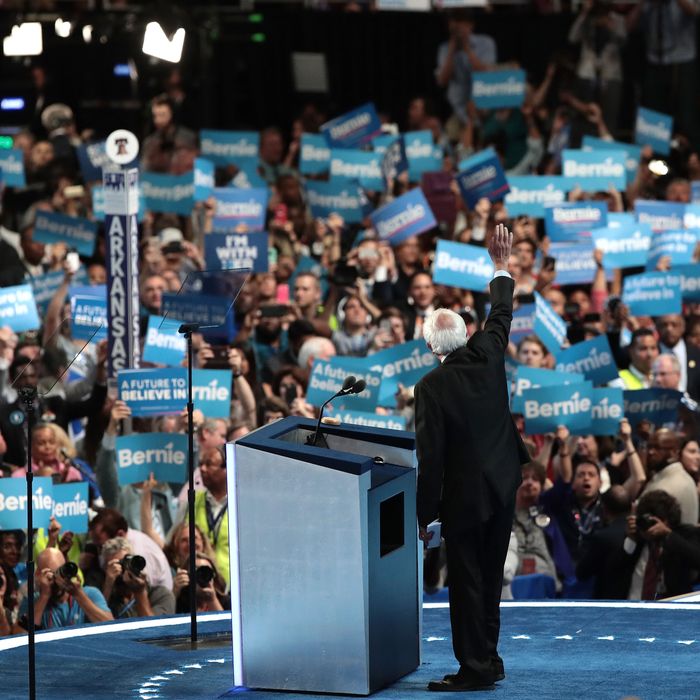 Bernie Sanders addresses the DNC on Monday night.
Photo: Drew Angerer/Getty Images
The marathon infomercial that is the Democratic National Convention got off to a shaky start Monday, when a number of its extras veered wildly off-script. The "Bernie or Bust" delegation spent the afternoon booing any speaker who suggested that Hillary Clinton should be the next president — including the senator whom they came to Philadelphia to support.
Sanders sent his backers texts, begging for more cooperative behavior. Reporters used the phrase "Dems in disarray" in full sincerity. As the boos carried on through the early evening program, it became possible to imagine the nominee delivering her acceptance speech over a steady hum of jeers.
Tensions reached their peak shortly after the party dispatched two comedians to relieve it. Sarah Silverman began her remarks to the DNC by reminding the crowd that she had "felt the Bern" throughout the primary. She was interrupted by a wave of defiant pro-Bernie chants that delayed (or, perhaps, inspired) her punch line, "But don't worry. I got a cream for it." Her stage partner, former SNL writer (and current Minnesota senator) Al Franken asked her to repeat the line for those who hadn't heard it. Silverman repeated the joke half-heatedly. Then, with more vigor, she spelled out its subtext — if you're still feeling the Bern, please cool it.
"Hillary is our nominee," Silverman said. "And I will proudly vote for her. It's inspiring! A few years ago she was just a secretary, and now she's going to be president! I am proud to be a part of Bernie's movement, and a vital part of that moment is making sure Hillary Clinton is the next president of the United States."
When this message was not received in the spirit that Silverman had hoped — and she and Franken were left to vamp for several minutes while stagehands set up Paul Simon's piano — the comedian became more direct.
"Can I just say: To the Bernie-or-Bust people, you're being ridiculous," she said, to raucous cheers from the majority of the crowd, and raucous jeers from the rest.
As these warring sentiments reverberated through the Wells Fargo Center and Franken and Silverman made painfully awkward banter about "bridges over troubled water," it seemed like nothing, not even a mediocre performance by Paul Simon, could heal the rifts in the Democratic tent.
And then the most talented orator in the Obama family took the podium. The first lady's vivid and personal tribute to America's promise kept the crowd too enrapt for internecine conflict. Obama's command was so complete, she managed to throw not-so-subtle shade at the renegade delegates without inspiring any audible rebuttal.
"When [Hillary] did not win the nomination eight years ago, she did not get angry or disillusioned," Obama observed. "Hillary did not pack up and go home because … Hillary knows that this is so much bigger than her own disappointment."
It was nearly 11 p.m., by the time the senator with the loudest fans in Philadelphia took the stage. And like Paul Simon before him, Sanders chose to play the hits. His speech to the DNC was a nearly word-for-word rerun of the one he gave when endorsing Clinton earlier this month. One of the only variations was a loud assurance than his voters would be able to express their true presidential preference formally, during a roll-call vote on Tuesday. This, combined with Sanders's relentless argument for placing policy outcomes above personal drama, appeared to cow his supporters into acquiescence:
Let me be as clear as I can be. This election is not about, and has never been about, Hillary Clinton, or Donald Trump, or Bernie Sanders, or any of the other candidates who sought the presidency. This election is not about political gossip. It's not about polls. It's not about campaign strategy. It's not about fundraising. It's not about all the things the media spends so much time discussing … This election is about ending the 40-year decline of our middle class — the reality that 47 million men, women, and children live in poverty.


Sanders then proceeded through his stump speech's parade of outrages, favorably comparing Clinton's policy response to each injustice to that of Donald Trump. Not wanting to seem as myopic as the corporate media, the Bernie-or-Bust delegates offered little protest when Sanders concluded with a full-throated endorsement of the Democratic nominee.
Or perhaps, the Mountain Dew had simply worn off.