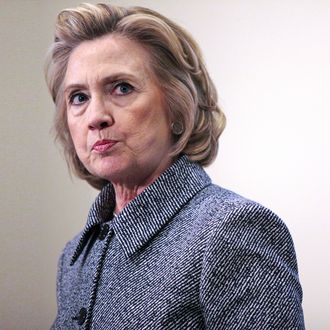 Apparently people do care about her damn emails.
Photo: Yana Paskova/Getty Images
Now that the FBI has concluded its probe into Hillary Clinton's use of a private email server during her tenure as secretary of State and the Justice Department has accepted its recommendation not to issue an indictment, the State Department will reopen its own internal investigation into the matter, Reuters reports.
The department suspended its planned review in April so as not to interfere with the work of the FBI.
"I cannot provide specific information about the Department's review, including what information we are evaluating," spokesperson John Kirby said in a statement. "We will aim to be as expeditious as possible, but we will not put artificial deadlines on the process."
According to CNN, the review will focus on whether current State Department employees who worked under Clinton during her time at the helm of the agency from 2009-2013 should face disciplinary sanctions, the most severe being the loss of their security clearance. Former employees may have notes added to their files that could affect their ability to obtain security clearances if they seek government employment in the future.
In May, the department's inspector general issued a report that sharply criticized Clinton's decision to use a private server, finding that she had never asked permission to do so and would not have received it if she had. The report also faulted Clinton for failing to comply with the rules governing federal record-keeping.
It does not appear that Clinton herself will face any consequences if the department finds evidence of wrongdoing, other than bad press for her presidential campaign. On the other hand, the review might last beyond the November election.
House Republicans are pressing the Obama administration to deny the presumptive Democratic nominee access to the security briefings customarily provided to presidential candidates, and plan to send a referral to the FBI requesting a new investigation into Clinton's previous statements to Congress regarding her use of the private server, with a view to charging her with perjury.