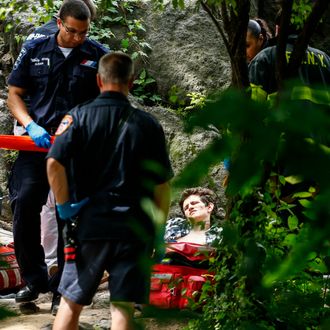 First responders attend to the young man after the blast.
Photo: Kena Betancur/AFP/Getty Images
Sunday morning in Central Park, an 18-year-old man suffered a "partial amputation" of his foot after accidentally stepping on a device New York police are calling "an experiment with fireworks or explosives" which, though clearly very dangerous, was not constructed to deliberately hurt anyone, and does not seem to be terrorism-related, according to ABC News.
The bizarre incident occurred in an area of the park near East 60th Street close to the entrance of the Central Park Zoo, and the cannonlike blast was heard blocks away, startling many, including attendees of the funeral for author and Nobel Peace Prize laureate Elie Wiesel that was being held nearby. According to the Daily News, the man's foot was "all but gone" as a result of the blast.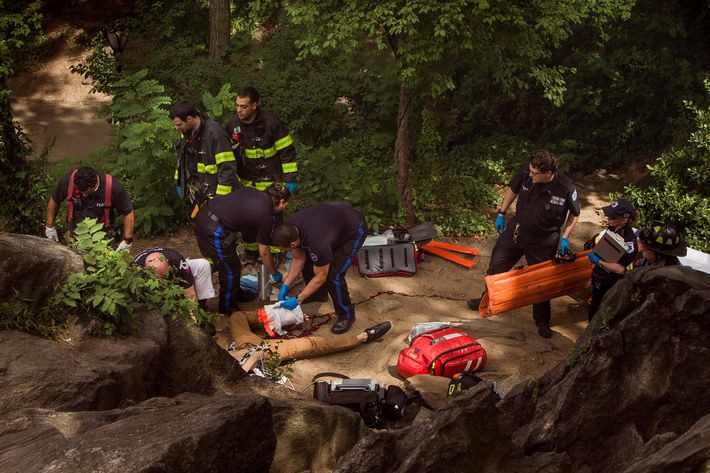 The teenager, identified as Connor Golden, was subsequently taken to Bellevue Hospital where he remains in serious but stable condition. Golden, a tourist from Virginia, was visiting the city for the Fourth of July weekend with two of his friends. One of those friends, 20-year-old Thomas Hinds, also from Virginia, told reporters that they were climbing down some rocks when "it seemed like [Golden stepped] on something that was pressure sensitive." After hearing the loud explosion and seeing dirt fly up into the air, Hinds then noticed that Golden's foot had been "severely mutilated."
"I want to say someone planted a firework or bottle rocket," Hinds added, though he repeatedly told police and reporters that they were not playing with fireworks themselves. Hinds also said that Golden "handled it pretty well," all things considered, though it's likely that he was in shock after suffering the injury. Bystanders rushed to the group's aid, and first responders followed soon after. Golden's friends were questioned by police, but neither was taken into custody, and they are not considered suspects.
Regarding whether or not somebody laid some kind of firework-landmine in Central Park, the police didn't take any chances, sending in the bomb squad to investigate. At one point, it was reported that police were even closing and evacuating the park, but that turned out to be inaccurate, and it seems only a portion of the park was closed for the investigation.
In a press conference early Sunday evening, Mark Torre, the commanding officer of the NYPD bomb squad, told reporters that the blast was not caused by any kind of improvised explosive device, and that they did not believe it was connected to terrorism or any attempt to do harm. Instead. police think the device was likely some kind of fireworks experiment gone wrong, possibly created by a fireworks or explosive "hobbyist" whom they are now attempting to identify and find.
One witness who spoke with the New York Post commented, "That was no normal firework. This wasn't an M80 or a cherry bomb. Some something much more serious. I saw a divot that reminded me of impact craters."
This post has been updated to include the results of the NYPD bomb-squad investigation.