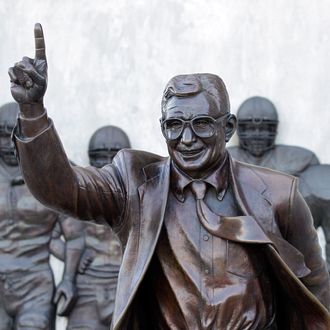 Joe Paterno.
Photo: Rob Carr/Getty Images
Last fall, Penn State reached a $93 million settlement with the victims of assistant football coach and serial child rapist Jerry Sandusky. The school hopes its insurance provider will foot some of that bill. But if the insurer can prove that the university kept allegations of abuse secret — and thus enabled future acts of abuse — it can deny the university's claims. This has led to a protracted legal dispute that has periodically produced new evidence that Penn State's legendary football coach Joe Paterno knew about his colleague's affinity for child abuse decades before he reported it to university officials.
In May, PennLive reported on a court filing that included the sentence "in 1976, a child allegedly reported to PSU's Head Coach Joseph Paterno that he (the child) was sexually molested by Sandusky." The full testimony behind that claim was unsealed Tuesday morning. In it, a man identified as John Doe 150 claims he was molested by Sandusky while attending a football camp at Penn State when he was 14 years old. The Washington Post provides this partial transcript:
"Is it accurate that Coach Paterno quickly said to you, 'I don't want to hear about any of that kind of stuff, I have a football season to worry about?'" the man's lawyer asked him in 2014.

"Specifically. Yes … I was shocked, disappointed, offended. I was insulted… I said, is that all you're going to do? You're not going to do anything else?"

Paterno, the man testified, just walked away.
The testimony comes as part of a report from a risk-management expert, which documents six different instances where sexual-abuse allegations were either witnessed by Penn State coaches or reported to university officials or Paterno himself. Among these were a two incidents in 1987 and 1988, in which assistant coaches say they personally witnessed Sandusky sexually abusing children.
Paterno did not report any allegations against Sandusky to athletic director Tim Curley until 2003. He died in January 2012. His family released the following statement to the Post.
From the beginning, the Paterno family has been outspoken in their desire for the complete truth in the Sandusky tragedy. They have also repeatedly called for due process for all affected parties. With this latest release of information, the total mishandling of the Sandusky investigation is highlighted once again.

The overwhelming evidence confirms that Joe Paterno never engaged in a cover up of Jerry Sandusky's crimes. Multiple independent parties have confirmed this conclusion. In fact, consistent with University rules, Joe reported an allegation about Sandusky to administration officials. As President Barron stated in his message to the University earlier today, an environment where faculty and staff feel protected in reporting wrongdoing is a key objective of the University.

The materials released today relating to Joe Paterno allege a conversation that occurred decades ago where all parties except the accuser are now dead. In addition, there are numerous specific elements of the accusations that defy all logic and have never been subjected to even the most basic objective examination. Most significantly, there is extensive evidence that stands in stark contrast to this claim.

That Penn State chose to settle claims without fully assessing the underlying facts is something that the University obviously felt they had to do to help resolve this matter. We understand their desire for closure, but it does not remotely validate the assertions about an uncorroborated conversation with Joe Paterno.

When the Sandusky scandal first became public in 2011, there was a lot of rhetoric in the media about using this case as a model to help prevent other child sex abuse scandals. Sadly, one of the lessons from the Sandusky tragedy is how not to investigate a crime of this type.