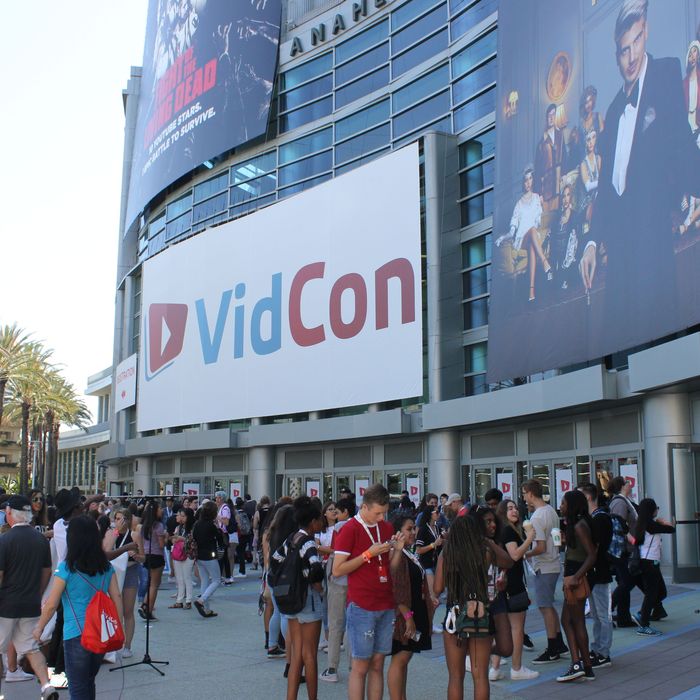 For three days every summer, Anaheim, California, a city founded on grapes, oranges, and walnuts, becomes the youth capital of the world. No, not because of Minnie and Mickey at Disneyland: The hordes of teenagers who descend on Orange County are hoping to snag a selfie with Tyler Oakley or Shane Dawson at VidCon, a yearly conference gathering the biggest stars of YouTube, Vine, Musical.ly — and their fans.
Twenty-five-thousand people packed the Anaheim Convention Center this year: branded booths and lavish lounges stuffed with suits and stilettos click-clacking past starry-eyed tweens in crop tops and short shorts, clutching iPhones as their parents' eyes bulge at the approaching vanguard. Budding Biebers and inchoate Instagram stars, sultry Snapchatters, youthful YouTubers, titillating tweeters, all there. And since most attendees aren't old enough to have their own bank accounts, let alone drive, there's a whole lot of parents.
None were more out of place than the dads. I saw all types of fathers at VidCon. Some kept their heads down, watching their phones, or the floor. Some out of breath, sweating, a few steps from a noble death in the heat of battle. Others congregated en masse, like members of a herd of ruminants who'd found water. A few seemed as excited as their kids — most looked terrified.
The dada diaspora couldn't have been more perfect than it was in the Kia Parent's Lounge, an open area next to a booming soundstage, with nothing but flimsy black curtains for protection. More like a holding pen than a lounge, this is where parents recharge their phones. And themselves. Some sat on the weathered carpet, scrolling through emails, texting missing kids: Where are you?? Some played video games, legs folded, time-warped back to childhood. Retro Pac-Man on a flat screen. A few feet away, Nintendo 64. Mario Kart was still a winner, battle mode blasting. "Yes!" screamed a dad.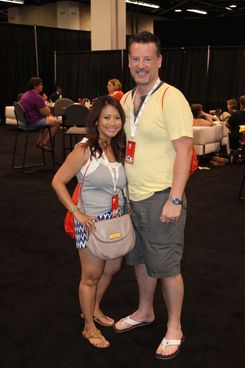 In the middle of the circus sat a white Kia Sportage, a 30-something in cargo shorts and thong sandals inspecting it as if he were casing a bank. "Can you win it?" I asked. "No," he tells me. "You can't win it."
This is how I met Nathan, a registered nurse from Sacramento, at VidCon with his wife, Marie, a bookkeeper for the state. They drove down with their 14- and 10-year-old girls for three days at VidCon, before going to Disneyland.
So what does a parent trip to VidCon entail? "We walk around, get free shit, and people-watch," Marie told me. "This is summer vacation," Nathan said, though "it's expensive," Marie explained. (Their kids saved money earned from chores and odd jobs — the only way the family could make their first VidCon work.) And a bit confusing. "They should have parents' education class," Nathan suggested. "It'd be good to know what to do and see, a guide to dos and don'ts." "I want to know what my kids are so excited about," said Marie, nodding.
Marie had another suggestion: "It would be nice if they served alcohol. The only way to make this fun would be if they served mimosas." Would they come back next year? "If I had free time, I would be drinking," Marie said. "Not here."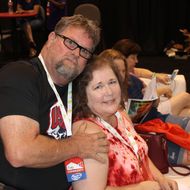 Near the Pac-Man arcades I found a man in a power wheelchair in a "USA" T-shirt, accompanied by a woman carrying an iPhone, an iced coffee, with a when-will-it-be-over look on her face. Buddy and Krista Gray came from Modesto, California, with their 15-year-old and 18-year-old boys. "It's our son's passion," Buddy, a retired minister, told me. "Our son wants to be a YouTuber. He's just starting."
"We want to support him," added Krista. "But he's 15, so things are changing a lot. It's unreal that YouTubers make millions on homemade video. We want our son to see exactly what's out here — just how big the horizon is."
It's an enormous horizon. Young people watch more online video than cable. This shift — and the ballooning ad budgets that go with it — means it takes an enormous amount of money just to get in the building, so to speak. And like many people I speak with, the Grays are floored by how much it costs to be good parents in the YouTube economy. If their kids wanted to quit school? "I would panic," Krista said, laughing. Her work as a registered nurse helped support the family in lean times, she said, through a move from Texas. This struggling family is stretching what little they have — and feeling it.
"Tickets alone were, say, $600 bucks for four, our hotel for the week is $1,200, three days at Disneyland is another $750," Buddy calculated. "On top of that, couple hundred in gas. And occasionally we have to eat. It's about $50 a meal round here."
What about families on the other side? The ones building this machine? I happened upon one such dad-daughter combo while on a tour of the convention center. Michael Boychuk is the executive creative director for Amazon — a very big deal. But at VidCon he looked sheepish next to his daughter Katya, who's not even in high school. Boychuk told me he relies on her to figure out trends, and what's next: "I look for her to point me in the right direction. Famous isn't what it used to be."
I ran across another dad-daughter combo — the journalism professor and pundit Jeff Jarvis, who brought his daughter this year after getting in a lot of trouble for attending solo last year. "It's not about video or content, it's about relationships, how people understand and relate to these stars," he told me. "I learned that through my daughter. Wall-to-wall screaming girls, I'm the invader. I don't belong here."
"At the first VidCon, seven years ago, you had a lot of confused parents walking around," Dan Weinstein, the president of Studio71, which produces, develops, and distributes videos to the tune of five billion monthly views, told me. "Why did my kid make me wait in line for three hours to get an autograph from some other kid? Now, I don't think there's as much confusion. It's proliferated enough into pop culture. YouTube stars are on Ellen, Good Morning America. The phenomenon is at least intellectualized."
Of course, while people like Weinstein and Boychuk help crank the machine, no one is closer to the sausage than the actual stars. This year I managed to run into Daddy Fun Pack, who may be the ultimate dad of VidCon. With the help of his wife, Kristine, and their five kids, Daddy Fun Pack has turned his family into the most-watched on YouTube — at almost three million subscribers.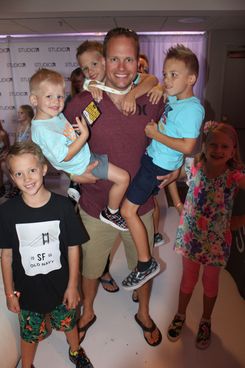 "I was a full-time math teacher up until a few months ago," the 37-year-old patriarch, whose real name is Matt, told me. "My wife was a piano teacher. In the last year, we've cut back on all of that."
They posted a video of their twins back at the end of 2011, "just so my parents could see their grandkids, and people started watching. Suddenly, it had 10,000 views. Whoa! This is crazy, strangers are watching our kids. We were going to take it down or make it private; we didn't know how YouTube works. Then it just kept growing. Pretty soon it had a million views. From there, we started thinking, what else could we do?"
Daddy Fun Pack says it took a few years to get real traction, and he's since honed his business sense. School, voice lessons, piano practice for the kids, "we don't film every single day," he says, but it is work, and the whole family's in it together.