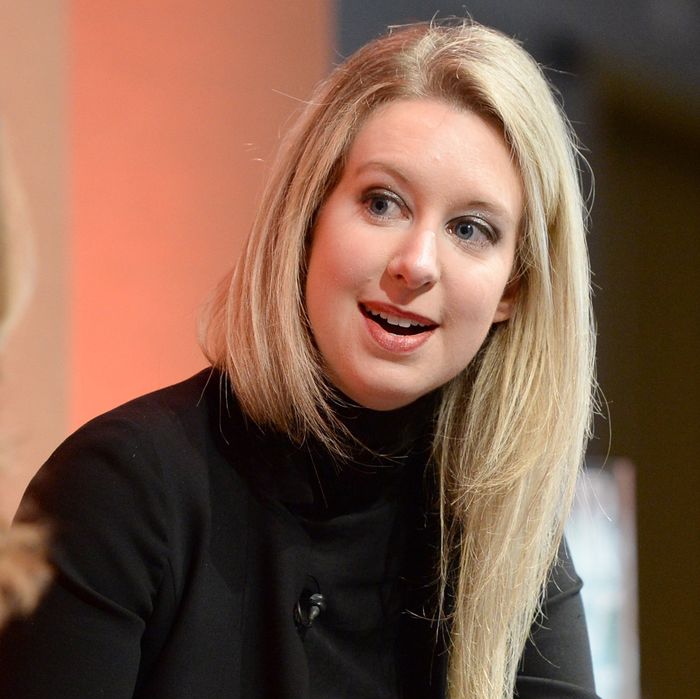 Photo: Michael Kovac/Getty Images
Elizabeth Holmes, lover of black turtlenecks and CEO of blood-testing start-up Theranos, has been officially banned by U.S. regulators with the Centers for Medicare & Medicaid Services from operating a medical lab for at least the next two years. And while that may seem like a small punishment to those of us who have never planned to, and don't intend to, operate medical labs, it isn't great news for someone whose entire business model centers on being able to own and operate a medical lab.
In the latest — and maybe last — chapter in Theranos's extended fall from grace, the company will be shuttering its Newark, California, operation entirely starting in 60 days. (Patient testing at the facility has already ceased, but the company's Arizona lab remains operational, Tech Crunch reports.)
"We accept full responsibility for the issues at our laboratory in Newark, California, and have already worked to undertake comprehensive remedial actions. Those actions include shutting down and subsequently rebuilding the Newark lab from the ground up, rebuilding quality systems, adding highly experienced leadership, personnel and experts, and implementing enhanced quality and training procedures," Holmes said in a company statement.
Theranos, a company Holmes founded at age 19 after dropping out of Stanford, has spent the last year tumbling from a $9 billion valuation to an object lesson in bio-tech hubris. Following skepticism from former employees that the Theranos blood-testing technology actually works as the company claims it does, The Wall Street Journal ran a number of stories discrediting the company and disputing its claims. Since then — despite the protests of prominent Silicon Valley executives and investors — Theranos has lost its COO, an important corporate partnership with Walgreens, and, well, its reputation. (Oh, and then there's that ongoing federal criminal investigation as well.) Thursday's regulator censure also comes with an undisclosed civil money penalty. Here's hoping Holmes can afford to pay it: Earlier in June, Forbes reestimated her net worth, knocking it from $4.5 billion to zero.