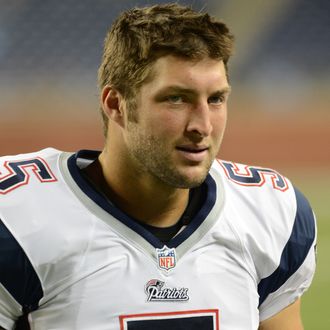 Tim Tebow is depriving the world of his political opinions.
Photo: Mark Cunningham/Getty Images
At one point, Donald Trump dreamed of having a "winner's" night featuring sports stars at the GOP convention, but ultimately the only well-known sports figure he could come up with was Tim Tebow — and, as it turns out, his campaign didn't even do that right. A day after several outlets reported that Tebow would have a speaking slot at the convention, the former quarterback denied it in a video posted on social media. "Just got back from the Philippines and I wake up this morning to find out that I'm speaking at the Republican National Convention," Tebow said. "It's amazing how fast rumors fly and that's exactly what it is, a rumor."
Tebow's name was one of the most recognizable on the speaker's list unveiled by the New York Times on Wednesday night, but it did not appear on the schedule released by the Republican National Convention on Thursday morning. Maggie Haberman of the Times insisted that this wasn't a mistake by her colleague Jeremy Peters, who broke the story, but by the Trump campaign:
Another possibility: Tebow saw all the flak he was getting for headlining Trump's convention and decided to back out.
Either way, Trump's lost one of his most attention-grabbing speakers. It's too bad there's no way for Sarah Palin to get from Alaska to Ohio.