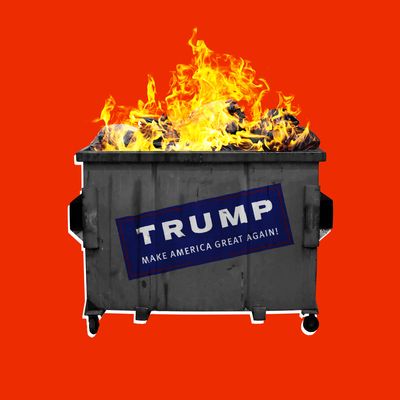 Photo-Illustration: Photo: Michael Krinke Photography/Getty Images
Donald Trump has enjoyed a moderately positive week, with the director of the FBI bringing Hillary Clinton's email scandal back into the headlines, and next week's Republican convention offering a chance to unify his party. So it's time for another completely insane Trump maneuver. The Republican candidate is now suing his fired former aide Sam Nunberg for violating a nondisclosure agreement. According to court filings, Nunberg replies that the lawsuit is "'a misguided attempt to cover up media coverage of an apparent affair' between senior campaign staffers." Whatever effect Trump's lawsuit has, it probably will not make the national media less curious about this alleged affair.
So Trump is now running for president as both the plaintiff in one legal case and the defendant in another. Also, the Republican platform has officially changed its use of the term "illegal immigrants" — not to adopt a less offensive term, but to adopt a more offensive one. The Republican Party's official preferred nomenclature is now "illegal alien," in the Trumpian spirit of giving maximal offense to crucial demographic groups for no good reason.
In other garbage-fire news, the Trump campaign continues to barely exist. Sam Stein and Elise Foley attempted to contact the Trump campaign in all 50 states:
A few of the state operations had no websites or no numbers listed. Many of the other numbers didn't work. When we left voicemails, we didn't get callbacks.

On only six occasions did someone actually answer the phone. And in several of those instances, the person who picked up explained that a physical office would be opened up only after the convention.
Also, Breitbart News reports that "Bikers for Trump" will patrol the streets in Cleveland during the Republican convention. "Bikers for Trump aren't going to Cleveland looking to cause trouble," the right-wing site assures readers, "but will be on hand to counter thousands of professional leftwing agitators planning to disrupt the Republican nominating convention." So relax — there's no way a riled-up paramilitary gathering of rabid bikers could react in any way that reinforces middle America's concerns about the Republican nominee.